Three held over beating of Ukraine activist Chornovol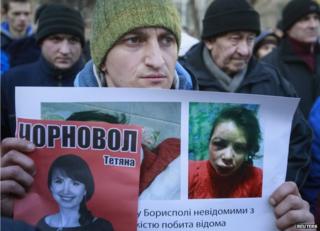 Police in Ukraine have arrested three suspects over the severe beating of an anti-government activist and journalist, Tetyana Chornovol.
In a TV interview from her hospital bed she said the assailants had broken her nose and she could barely open one of her eyes.
Her car was rammed by a sports utility vehicle late on Wednesday near Kiev.
She was then beaten up and suffered head injuries. She has linked the attack to her investigative journalism.
The attack came after more than a month of mass demonstrations by anti-government activists in Kiev who want the country to sign a pact with the EU and loosen ties with Russia.
'Blows to the head'
So far only one suspect has been named - Serhiy Kotenko, a 29-year-old Kiev resident.
The three face charges of causing grievous bodily harm - more serious than the original charge, which was "hooliganism".
Ms Chornovol told Ukraine's private news channel 5 Kanal TV that the SUV forced her to stop, then "a man got out of the car and broke the side glass of my car".
"I started running. They caught me and I received a blow to the head. At some point, I regained consciousness when they were hitting my head," she said.
Hundreds of protesters expressed anger at the attack, at a rally outside the interior ministry in central Kiev on Thursday.
The attack was also condemned by Ukraine's President Viktor Yanukovych, jailed opposition leader Yulia Tymoshenko, the US government and the OSCE international security organisation.
It is the latest in a series of attacks on opposition activists.
On Tuesday, Dmytro Pylypets, who has taken part in and organised anti-government protests, was beaten and stabbed in the eastern city of Kharkiv.
Ms Chornovol has become famous for her investigative reports into the affairs of Ukraine's top officials, whom she has accused of engaging in dubious business practices and whose wealth she has exposed.
Shortly before the attack she had published a blog in which she wrote about a "country manor" which she alleged was being constructed for Interior Minister Vitaliy Zakharchenko near Kiev.