Theatre director rams car into Elysee Palace in Paris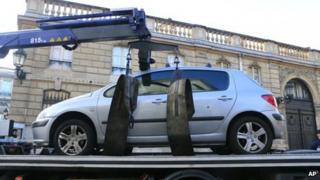 A man has rammed his car into the rear gate of the Elysee Palace, the Paris residence of French President Francois Hollande.
The man was arrested as he tried to force his way through the Grille du Coq gate on Thursday.
Police identified him as 67-year-old Attilio Maggiulli, a theatre director of Italian nationality.
Police officials said he was protesting against cuts in subsidies to his small theatre in Paris.
He had already been arrested on Wednesday near the Elysee Palace after pulling a Harlequin puppet from his car and setting it alight.
"He then threw around some leaflets denouncing the cuts in subsidies for his theatre," a police source told Reuters news agency.
Police had arrested him but let him go shortly afterwards.
Slow-speed crash
The driver was lightly hurt in the collision and has been taken to a Paris hospital.
Police sources said he runs a 100-seat theatre in the Montparnasse district.
He has been arrested on suspicion of endangering the lives of others.
"If his aim was to be talked about, he has succeeded. But he may have to pay for that," a source close to the investigation told AFP.
A local shopkeeper told Le Parisien newspaper she had "heard an almighty bang and seen a grey car".
"The police and Republican Guards came quickly and pulled out an unconscious man from the vehicle," she said.
The 19th-century gate was reportedly only scratched in the crash, which happened at slow speed.
It is not clear if Mr Hollande was in the palace at the time of the incident.
President Hollande has pushed though cuts to the French cultural budget in an effort to reduce the government's deficit.