Italy clearing Lampedusa migrant centre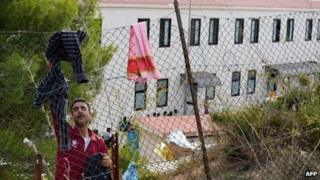 Italy has begun clearing a notorious migrant reception centre on Lampedusa following a series of protests against unsanitary conditions and mistreatment.
The centre was designed as a short-stay facility for migrants passing through the tiny Mediterranean island, but later became a long-term refugee camp.
The number of migrants arriving in Italy - many from Eritrea and Syria - has tripled to 42,000 since last year.
Most of those housed on Lampedusa are now being flown to the mainland.
On Monday, Prime Minister Enrico Letta said he would propose overhauling a law against clandestine immigration and also making it easier for the children of immigrants to gain citizenship.
'Degrading'
The migration reception centre on Lampedusa was originally intended to house 850 people for up to 48 hours before transfer to other facilities.
However, it was steadily transformed into long-term camp, where migrants were housed in overcrowded and unsanitary conditions.
Last week, video footage emerged that appeared to show naked migrants standing outside in freezing conditions while waiting to be sprayed with disinfectant, provoking a storm of criticism.
Laura Boldrini, the speaker of the Chamber of Deputies and a former spokeswoman for the UN High Commissioner for Refugees (UNHCR) in Italy, called the treatment "degrading and unworthy of a civilised country".
Mr Letta said he was shocked by the pictures and promised an in-depth inquiry.
At the same time, nine North African migrants at a migrant expulsion centre near Rome sewed their lips together to protest against what they said were prison-like conditions there.
On Tuesday, Deputy Interior Minister Filippo Bubbico told the Avvenire newspaper that 200 migrants at the Lampedusa reception centre would be transferred to other centres. Seventeen individuals who required their identities to be established before being moved would be remain, he said.
The Italian Red Cross also sent eight staff to Lampedusa to boost its presence on the island.
The Italian interior ministry estimates that about 42,000 migrants have landed in Italy this year, usually on boats from North Africa. Hundreds of people drowned when boats sank off Lampedusa, the country's southernmost territory, within days of each other in October.