Afghans set up Belgian protest camp in Mons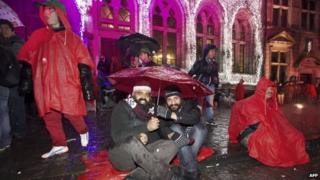 Hundreds of Afghan asylum seekers have set up a protest camp in the Belgian town of Mons, demanding to meet Prime Minister Elio di Rupo.
Mr di Rupo is also the mayor of Mons, and the asylum seekers say they will camp out in the town square until they see him.
They are pressing to be granted residency and for a guarantee that none of them will be expelled.
A town official said their cases would be reviewed "urgently".
Some 350 asylum seekers had set off on a march to Mons from Brussels on Friday.
They had previously been occupying a church in Brussels to draw attention to their situation, with the head of the Catholic Church in the country, Archbishop Andre-Joseph Leonard, expressing support for their cause.
The protesters' spokesman Samir Hamrad told RTBF radio: "We want to show the government that it would not be easy for us to go back to Afghanistan. They are scared of returning there."
The town's authorities were putting in place an "emergency plan" on Sunday evening, local media reported.
"The police and also medical aid are on standby. The main focus is provide them with blankets and food," town spokeswoman Juliette Picry told La Libre Belgique newspaper.
Mr di Rupo is currently abroad and is returning to Belgium on Monday.