Analysis: Mikhail Khodorkovsky in exile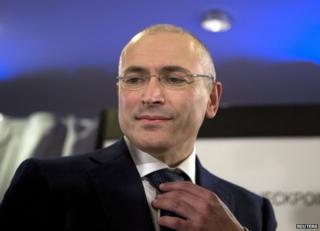 For a man who has just spent 10 years in prison for a crime he says he did not commit, Mikhail Khodorkovsky was remarkably calm and composed.
If he felt angry, he did not show it. He said his relationship with President Vladimir Putin was pragmatic and did not involve such things as revenge and hatred.
He said that he was grateful that his family had been left alone while he was in prison, and he appears to have given up any political ambitions he once had.
"The struggle for power is not for me," he told the news conference, but said that he would continue to fight for the freedom of political prisoners in Russia and elsewhere in the world.
He is effectively in exile. Asked if he would return to Russia, he made it clear that he had no intention of doing so at the moment, saying he had "no guarantee" that he would be able to leave again if he did.
He told us that he was only informed about his release by the camp commander - at 02:00 - and he had no idea where he was going until he saw the German plane at the airport.
Moderniser
Mikhail Khodorkovsky is a complex dissident. He made his money during the unscrupulous 1990s, building a huge banking and oil empire.
For that reason he is not widely loved in Russia. Many people see him as part of a gang who stole Russia's assets as the Soviet Union fell apart.
But in the early 2000s he tried to lead the way in modernising Russian business, and encouraging further democracy in the country.
It was when he started funding opposition groups - and when he called out President Putin for the increasing atmosphere of corruption surrounding the Kremlin - that he fell out of favour.
Other oligarchs stayed away from politics or left the country but Mikhail Khodorkovsky did not, and ended up in prison.
Human rights groups say his 10 years in prison, and his sudden release, show how poor the rule of law is in Russia. Imprisonment is still a tool in Kremlin politics, though arguably President Putin has started to use it less.
The opposition leader Alexei Navalny, the Greenpeace activists - and soon Pussy Riot - have all found themselves being set free in recent months.
There is widespread speculation that the releases are part of an attempt to clear Russia's prisons of controversial cases before the Winter Olympics in Sochi in February.
When asked if he favoured a boycott of the Sochi games, Mikhail Khodorkovsky said he did not want to spoil what should be a celebration of sport. But he cautioned that they should not be a celebration of one man - President Vladimir Putin.