Banking woes haunt EU summit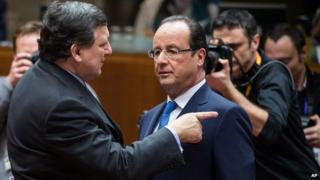 EU leaders have finished two days of summit talks in Brussels amid doubts about an agreed banking union plan.
Friday's agenda included the migrant crisis in the Mediterranean and the EU's setback in Ukraine, after Kiev opted for closer ties with Russia.
Earlier new rules were agreed for bailing out or closing problem eurozone banks. The industry itself will set up a 55bn-euro ($75bn; £46bn) fund.
But the European Parliament is sceptical about the plan as it stands.
The parliament's president, Martin Schulz, tweeted that the "system for rescuing or liquidating failing banks needs to be simpler, more effective". In another tweet he said "European Parliament cannot accept the single resolution mechanism for failing banks as agreed [by EU leaders]".
The deal is aimed at building an EU banking union that should minimise the need for taxpayer-funded bailouts.
But it can only be implemented after negotiations with the parliament and European Commission.
Mixed messages
French President Francois Hollande said it would boost investor confidence.
"Now the European taxpayer, the French taxpayer won't have to pay anything if there were another financial crisis," he said.
Italy's Prime Minister Enrico Letta welcomed the move as "a big step forward".
The doubts - also expressed earlier by European Central Bank president Mario Draghi - centre on the way decisions will be taken on winding up problem banks, and on the funding arrangements for bailouts.
The proposed pot of 55bn euros is less than the amount that was used to bail out Ireland's banks, or Royal Bank of Scotland.
On Thursday the leaders also agreed on steps to improve defence co-operation, including "the EU rapid response capabilities" and "more flexible and deployable EU battle groups". The European Commission has highlighted that there is too much duplication in Europe's armed forces.
UK Prime Minister David Cameron stressed that military policymaking must remain in the hands of Nato, and he ruled out giving the EU separate defence capabilities.
He also sought support for tightening EU rules on migrant workers' access to social benefits. Next month workers from Bulgaria and Romania will get full access to the EU labour market, as the last restrictions are lifted.
Credit downgrade
Meanwhile, the ratings agency S&P has downgraded the EU's credit rating by one notch - from "AAA" to "AA+".
"In our opinion, the overall creditworthiness of the now 28 European Union member states has declined," S&P said. "In our view, EU budgetary negotiations have become more contentious, signalling what we consider to be rising risks to the support of the EU from some member states."
But it added that the outlook was stable and that ratings for individual member states were not affected by the decision. As most debt is issued by member states and not by the EU as a whole the move is seen as largely symbolic.
S&P's statement drew an angry response from EU Economic Affairs Commissioner Olli Rehn.
"The Commission disagrees with S&P that member state obligations to the budget in a stress scenario are questionable," he said.
He pointed out that "all member states have always, and also throughout the financial crisis, provided their expected contributions to the budget in full and in time".