Donegal robbery: Sword used during St Johnston robbery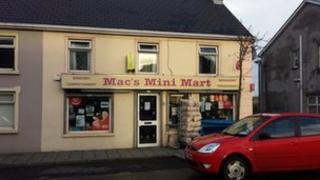 The owner of a shop in County Donegal has said he is considering the future of his business after being robbed by two men, one of whom was wielding a sword.
The men entered the premises on Main Street, St Johnston, just before 23.00 GMT on Monday.
Police said a substantial sum of cash was stolen during the robbery.
Sean McCarron, who owns the shop, said: "It was very scary. I didn't sleep much last night."
"They came in shouting for me to open the till and I tried my best to get it open as quick as I could."
"One of the men was pointing the sword at me and I did not know if he was going to stick me with the sword."