German press praises cabinet line-up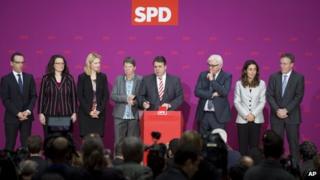 Germany's grand coalition has long been expected, but the announcement of cabinet posts still contained some surprises, and sparked speculation about future chancellors.
Germany's newspapers broadly applaud the ministerial line-up agreed between Chancellor Angela Merkel's Christian Union (CDU/CSU) and Sigmar Gabriel's Social Democrats (SPD). The team is seen as a better reflection of society than previous cabinets.
The decision to pick a woman for the post of defence minister wins particular praise, but a new digital infrastructure portfolio raises eyebrows.
'Exciting'
The nomination of Christian Democrat Ursula von der Leyen as the new defence minister is generally seen as a big surprise. The daily Die Welt even talks of a "sensation".
But there is broad backing for the appointment of the current labour minister and mother of seven. "What is happening here is a redistribution of roles between men and women," the columnist Franz Josef Wagner says in the best-selling daily Bild.
"Men change nappies, women become defence minister. This is exciting," he says.
Roland Nelles on the news website Spiegel Online describes the appointment of "one of Germany's most popular politicians" as a "clever move".
Ms von der Leyen "can provide strong leadership" and "the word 'defeat' has so far not been in her vocabulary," he says. "Why should that change now?"
Hannah Beitzer on the Sueddeutsche Zeitung website welcomes the choice of Ms von der Leyen as part of a broader trend towards a cabinet in which women and minorities are better represented.
She points out that the Social Democrats have not only nominated an equal number of men and women for ministerial posts, but that their Aydan Ozoguz is also "the first minister of state of Turkish origin in the history of the Federal Republic".
Nominated as a junior minister in charge of migration, refugees and integration, Ms Ozoguz's status as minister of state means that she will attend cabinet meetings.
'Absurd'
Several key nominations are uncontroversial, such as those of veterans Frank-Walter Steinmeier of the SPD and Wolfgang Schaeuble of the CDU as foreign and finance minister respectively.
But the choice of Alexander Dobrindt as minister of transport and digital infrastructure has caused a stir.
Oliver Georgi, in the Frankfurter Allgemeine Zeitung daily, says the nominee from Mrs Merkel's Bavarian Christian Social Union (CSU) allies has "barely any expertise as internet minister".
He "has not had a Twitter account until now and can certainly not claim that, at a time of NSA surveillance and daily horror stories of new eavesdropping affairs, he is at the forefront of the fight for net neutrality and data protection on the internet."
Worse, a joint internet and transport portfolio is "an absurd combination, which stems from the outmoded idea of 'data highways'," the paper says.
'Alchemist'
Ten posts in the 16-strong cabinet will be held by Mrs Merkel's CDU/CSU bloc, but the Social Democrats are thought to have netted some key positions.
In addition to holding the foreign, labour and justice posts, their leader Sigmar Gabriel will become vice-chancellor and head a "super ministry" combining the economy and energy portfolios.
The front-page headline of the business daily Handelsblatt describes Mr Gabriel as a "political alchemist". "He has turned dirt into gold and an election defeat into a major role in government," the paper says.
Heribert Prantl in the Sueddeutsche Zeitung agrees that the Social Democrats "have spun gold out of straw".
He interprets the widely praised SPD ballot which approved the coalition deal as a first step towards Mr Gabriel's future candidacy as a chancellor.
And many commentators agree on who the SPD leader's rival in a future election might be.
As the first female defence minister, Ursula von der Leyen "may yet become the second female chancellor," Berthold Kohler says in the Frankfurter Allgemeine Zeitung.
"So Gabriel already knows against whom he will probably have to stand if Merkel really were to decide that she has had enough," he concludes.
BBC Monitoring reports and analyses news from TV, radio, web and print media around the world. For more reports from BBC Monitoring, click here. You can follow BBC Monitoring on Twitter and Facebook.