Limerick money laundering: Police recover 1m euros in tumble drier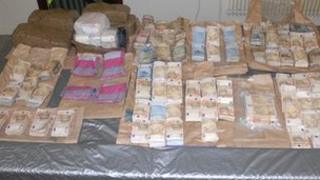 Two men were arrested after they were caught tumble drying money in a container in a field in Limerick.
Gardaí (Irish police) observed the men, in their 40s and 50s, using a digger to dig up the cash in the Montpelier area on Saturday.
More than 1m euros in cash was recovered at the scene, which police believe was from the proceeds of crime.
The seizure followed a five-month investigation into organised crime in the Limerick area.
Gardaí said the man in his 40s was released without charge on Sunday.
The man in his 50s remains in police custody.