Ukraine President Yanukovych suspends mayor of Kiev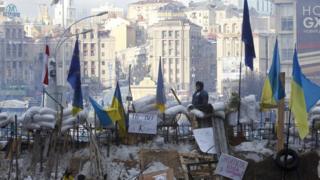 The president of Ukraine has suspended his deputy security chief and Kiev's mayor over the police violence against protesters on 30 November.
Prosecutors are investigating claims the two officials put pressure on Kiev's police chief to use violence.
Meanwhile tens of thousands have gathered in Kiev to show their support for President Viktor Yanukovych.
Protests erupted last month after the president pulled out of an integration agreement with the EU.
The violent crackdown energised the pro-EU protesters, who are now camped out in the capital's Independence Square.
Organisers - who are demanding Mr Yanukovych's resignation - have called for another big pro-EU rally on Sunday.
The BBC's correspondent in Kiev, David Stern, says the pro-government rally is just 100 metres from the pro-European encampment.
Divided country
While protests have gripped the capital and other cities in western and central Ukraine, President Yanukovych retains support in the east and south.
Those who want closer ties with Brussels believe meeting EU standards on competition, regulation and investor protection would make Ukraine's economy more open and transparent.
Protesters believe joining the EU has benefited Ukraine's neighbours to the west.
However, the government and its supporters fear that economic liberalisation would put at risk many enterprises reliant on trade with Russia.
Moscow has already put economic pressure on Ukraine, with customs delays and a ban on Ukrainian chocolates, and there are concerns it could escalate such measures if Kiev drew closer to Brussels.