Ukraine protesters rebuild barricades in centre of Kiev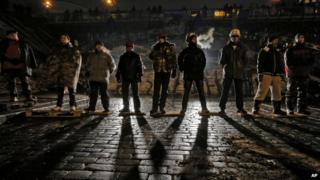 Pro-EU protesters in Ukraine have reinforced their position in the centre of Kiev, rebuilding barricades torn down by police.
The government's decision not to sign a deal on closer EU ties last month has sparked weeks of mass rallies.
First Deputy Prime Minister Serhiy Arbuzov said Ukraine would "soon sign" the pact in a meeting in Brussels.
His comments on Thursday came despite the earlier government U-turn, which followed pressure from Russia.
Financial aid
Mr Arbuzov had been taking part in a day of talks with EU Commissioner Stefan Fuele, who said the EU would provide more financial aid to Kiev if it signed the trade agreement.
Mr Arbuzov did not give any details of when Kiev would sign the deal, nor was any figure given for possible EU aid.
Earlier EU foreign policy chief Catherine Ashton said President Viktor Yanukovych had told her he intended to sign after all.
Meanwhile, BBC correspondent Steve Rosenberg described the barricades at the main protest camp in Independence Square in the capital, Kiev, as bigger than ever on Thursday .
Protesters erected barriers of metal pipes and sand bags packed with snow to ward off any further attempt by the authorities to empty the square.
The Ukrainian government's handling of the pro-EU protests in the square has drawn criticism from both the European Union and the US.
'Disgust'
Police moved into the main protest camp in Independence Square early on Wednesday, tearing down barricades and tents.
It prompted US Secretary of State John Kerry to express "disgust" at the government's treatment of a peaceful protest.
Officers later abandoned their attempt to clear the site, which had led to clashes with demonstrators. At least nine people were detained.
The US state department said later it was considering a range of responses including sanctions.
After her meeting with Mr Yanukovych on Thursday, Lady Ashton said she had insisted on the release of anyone arrested because of the protests and that the Ukrainian president had assured her that would happen.
Mr Yanukovych pulled out of the deal in November, saying the country could not afford to sacrifice trade with Russia. He also said Ukraine would need at least 20bn euros (£17bn; $27bn) a year to upgrade its economy.
President Vladimir Putin said in Moscow that he still hoped Ukraine would join its regional customs union.
The Kiev demonstration is seen as a sign of widespread frustration with Ukraine's economic malaise and failure to root out cronyism and corruption.
Closer ties with the EU could make the economy more open and transparent, meeting EU standards on competition, regulation and investor protection. Many Ukrainian protesters want their country to catch up with East European neighbours who have joined the EU.
But the EU partnership requires far-reaching reforms - unlike Russia's customs union.
The government and its supporters fear that economic liberalisation would put at risk many enterprises reliant on trade with Russia. Moscow has already put economic pressure on Ukraine, with customs delays and a ban on Ukrainian chocolates, and could escalate such measures.
Ukraine relies on imports of Russian gas - and heavy energy-intensive industries in eastern Ukraine are especially anxious to keep the gas price down. Some 75% of Ukraine's engineering exports go to Russia.
Ukraine's opposition called on Thursday for a mass rally at the weekend as they seek to increase pressure on the president, according to AFP.
"We invite everyone to come to our rally at midday on Sunday," the news agency quoted opposition leader Arseniy Yatsenyuk as saying.
The biggest demonstration so far was at the weekend, when hundreds of thousands of people thronged Independence Square and a short distance away tore down a statue of Lenin.