Irish bailout: Enda Kenny to address Irish on exit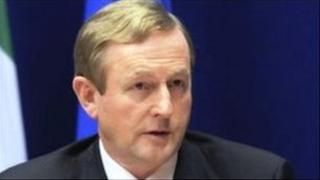 Irish Prime Minister (taoiseach) Enda Kenny is to deliver a televised address on Sunday - the day when Ireland exits its three-year 85bn euros (£71bn) bailout programme.
The Irish economy is emerging from one of the deepest recessions in the eurozone.
Ireland is due to leave the EU-IMF bailout on 15 December. It is not seeking precautionary funding.
In his address, he is expected to thank the country for sacrifices made.
It follows three years of tough austerity measures.
Ireland received the last tranche of funds from the loan on Friday - when Finance Minister Michael Noonan said the people of Ireland were the "real heroes and heroines" of the story.
However, he warned a long road to recovery still lay ahead and described the economic meltdown as the greatest crisis the country had endured since the Irish Famine.
Ireland sought an international bailout in November 2010.
Mr Kenny's address will be aired on RTÉ 1 after the news at 21:00 GMT on Sunday 15 December.