Child abuse report: 325 Christian Brothers were accused since 1975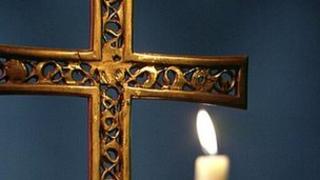 Child abuse allegations were made against 325 members of one religious order on the island of Ireland since 1975, but only 12 were convicted.
The Christian Brothers is a Catholic order set up to provide education and to help the poor. It ran more than 100 schools across the island of Ireland.
A Catholic Church child protection watchdog has published an audit of the order's handling of abuse allegations.
Fifty of those accused are still alive and are current members of the order.
The report also said that 145 of the Brothers who were accused have since died, while 49 have retired.
The audit was conducted by the National Board for Safeguarding Children in the Catholic Church in Ireland (NBSCCHI), at the request of the Christian Brothers order.
'Seriously abused'
The exercise was undertaken as part of a comprehensive review of child protection policies across all Catholic Church authorities on the island of Ireland.
A team of reviewers examined files dating back to January 1975, and in its final report, the board stated: "The numbers of allegations and Brothers accused is substantial.
"The files read by the reviewers left them in no doubt that a great number of children were seriously abused by Brothers."
The NBSCCHI report has found that "the Christian Brothers' initial response to reporting allegations to the statutory agencies was not systematic and was inadequate".
However, it added that its auditors were "satisfied that the Christian Brothers now report promptly".
The report stated that police in the Republic of Ireland had expressed "satisfaction with the current reporting by the Christian Brothers".
'Safety and support'
The auditors also said they were "impressed by the positive working relationship" that the Christian Brothers had developed with health authorities in the Republic of Ireland.
With regard to serving Christian Brothers against whom an allegation of abuse was made, the auditors said they believed "that it is safer for children if those accused remain as part of a community and safety and support plans can be put in place".
In relation to the accused men who have since left the order, the report said details of the abuse allegations had been "passed to the civil authorities along with their last known address".
In 2009, the Christian Brothers issued an apology following a damning public inquiry into child abuse in Catholic-run institutions in the Republic of Ireland.
The order said it accepted the findings of the Ryan Commission "with shame" and was "deeply sorry for the hurt" the Christian Brothers had caused through abuse and its failure to respond to abuse allegations.