Putin amnesty may free Greenpeace 30 and Pussy Riot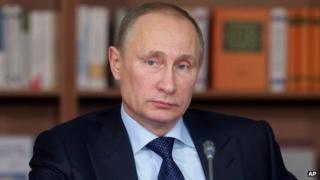 An amnesty drafted by Russian President Vladimir Putin could free the two jailed Pussy Riot protesters and the Greenpeace Arctic 30 campaigners.
Russian media say some opposition activists involved in unrest in May 2012 could also be released.
Mr Putin's amnesty bill has been submitted to parliament, to mark the Russian constitution's 20th anniversary on Thursday.
Six Britons are among the Greenpeace group charged in Russia.
The amnesty bill does not name those who would be pardoned, but lists categories covered.
A leading anti-Putin campaigner, Alexei Navalny, and the jailed former Yukos oil billionaire Mikhail Khodorkovsky would not be covered by the amnesty, Russian media say.
The Duma - the parliament's lower house - is packed with supporters of President Putin, so the amnesty is expected to be approved.
The 30 Greenpeace crew - 28 environmental activists and two freelance journalists - were given bail last month after spending several weeks in jail on remand. They were initially charged with piracy, but authorities revised it to hooliganism, which carries a shorter prison sentence.
Russian border guards arrested the 30 in September and seized their ship, the Arctic Sunrise. Some of the activists had tried to scale an offshore drilling platform owned by state-owned natural gas giant Gazprom in the Pechora Sea, in Russia's far north.
"Hooliganism" is one of the categories covered by the new amnesty.
The presidential pardon would also apply to women who have young children and who have not committed violent crimes. So it would cover Nadezhda Tolokonnikova and Maria Alyokhina of the punk protest band Pussy Riot. They are serving two-year jail terms far from Moscow, for their crude 2012 protest inside Moscow's main cathedral.
Russia's Interfax news agency says it would also apply to some opposition activists jailed over the 6 May 2012 disturbances in Moscow, known as the "Bolotnaya" case.
The deputy speaker of the Duma, Vladimir Vasilyev, said about 25,000 people would benefit from the amnesty, most of whom were not given prison terms. About 2,000 prisoners would be among that 25,000, as well as almost 6,000 who could see charges against them dropped.