Cage aux Folles film director Edouard Molinaro dies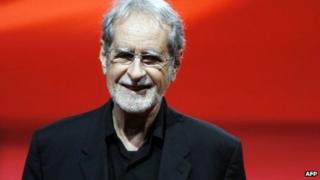 Edouard Molinaro, who directed classic French farce La Cage aux Folles and other much-loved films, has died in Paris at the age of 85.
After starting out in crime films, he switched to comedies, notably starring the actor Louis de Funes.
La Cage (1978), about a gay couple's hilariously ill-starred attempt to pass themselves off as straight, was remade in the US as The Birdcage (1996).
French President Francois Hollande paid tribute to Molinaro's popular appeal.
"Edouard Molinaro possessed the talent for attracting a broad public to quality films," a statement from the Elysee Palace said.
"This film-maker, who had a rich and varied career, directed the greatest actors of French cinema while winning over the public, and winning the admiration of his peers, at the same time."
Among Molinaro's numerous other films were Oscar (1967) with de Funes and My Uncle Benjamin (1969), which starred the Belgian singer and songwriter Jacques Brel.
He was nominated for an Oscar for the 1978 farce.
In recent years, Molinaro worked on made-for-television films and directing episodes of popular French TV series.
He died in hospital of lung failure.