Gunmen steal luxury watches from Paris jewellers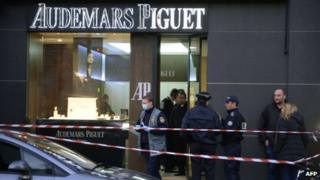 Gunmen have raided a luxury jewellers in an affluent part of Paris, absconding with luxury watches worth 800,000 euros (£670,000), reports say.
The thieves, brandishing handguns, threatened employees at the boutique near Place Vendome in the French capital, local media reported.
It is the latest in a series of similar raids in France.
In July, an armed man seized gems worth 103m euros in Cannes, in one of the world's biggest jewellery thefts.
The circumstances of the latest robbery are unclear.
A journalist for France 2, Hugo Clement, who was at the scene quoted police sources as saying the assailants were a man and a woman, wearing face masks.
French media quoting sources close to the investigation said the thieves were on the run.
In October, more than a dozen armed men burgled Vacheron Constantin, a luxury watchmakers in Paris. All were arrested shortly after, close to the scene.