End of golden era at Bolshoi Theatre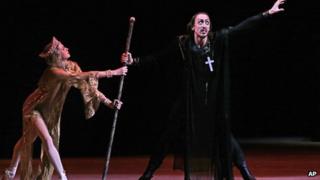 Monday's sentence in Moscow in the Bolshoi acid attack case marks the end of a scandal that has revealed the dark side of the famous Russian theatre, write BBC Russian's Oleg Boldyrev and Famil Ismailov.
All through the case, one of the defendants, ballet soloist Pavel Dmitrichenko, repeatedly asked Bolshoi artistic director Sergei Filin, the victim, for forgiveness and said that the attack was not a premeditated act.
In his statements, he tried to show that Mr Filin was in conflict with a number of dancers and managers.
Mr Dmitrichenko's colleagues, who were called to court as character witnesses, said the dancer had been defending their interests against the Bolshoi's management.
Since then, people at the top of the theatre have been replaced and the company has seen a few high-profile resignations.
Bolshoi's former premier dancer Nikolai Tsiskaridze had to leave, and recently the orchestra's chief conductor Vassily Sinaysky tendered his resignation.
There had been accusations of cronyism, favouritism and corruption in artistic decision-making at the theatre.
All these have been denied by the management and the ballet company's artistic director.
Hard times ahead
The scandal has shaken the Bolshoi to the core as behind-the-scene quarrels were laid bare for everyone to see.
The theatre's world-class reputation may remain intact, but its status as a Russian icon will take time to be restored.
Russian commentators note that the country's theatrical scene has always prompted tension and rivalry.
"This is normal, theatre is not a cathedral," says Vladimir Kotykhov, deputy editor of Ballet magazine.
But the extent of the conflict at the Bolshoi took him by surprise: "It was always the scene of conflicts, but for an attack like this to happen, it probably means that the times and morals of the entire country are changing," he said.
With changes in management, the theatre is going to go through difficult times, he says.
"It was also the emperor's theatre, the one for the establishment. Its golden days are gone, and while the current productions show good dance, there are no ground-breaking performances."