Press takes stock of Ukraine crisis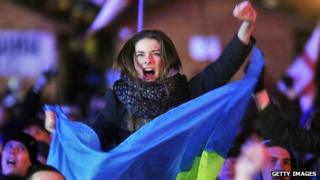 As protests continue in Kiev over the government's move to put EU integration on hold, newspapers in the region take stock of the current tensions.
Russian commentators are divided on how serious Ukraine is about integrating with the West, with some accusing Western politicians of pressurising Kiev into forging closer ties. And in France, one daily was glad someone still loved the EU.
In Ukraine itself, there is a feeling that last week's crackdown on anti-government rallies only increased the number of protesters.
With crowds besieging government buildings in Kiev, the Ukrainian cabinet's official newspaper Uryadovy Kuryer carries an article headlined "Common sense should prevail".
It appears to be critical of the violent crackdown on opposition protesters last week, saying that it "acted liked a spark, triggering a wave of civil disobedience and discontent".
Ukrayina Moloda, an opposition-leaning daily, also writes that the dispersal of the rally had the opposite effect, bringing "an unprecedented sea of protesters" out into Kiev's streets.
'Dominance of fear'
Commentators in Russia are split on whether Ukraine's future is indeed in Europe.
"Sooner or later Ukraine will integrate into Europe," says an article by liberal-minded former Finance Minister Aleksey Kudrin, published by influential Russian daily Kommersant. He is quick to add, though, that "this process had better be consistent and gradual".
An op-ed in popular daily Moskovskiy Komsomolets also argues that "Ukraine will move towards Europe whatever it takes". But it disagrees with those who see President Yanukovych as simply a Moscow stooge. "He is following his own scenario of a man for whom fear is the dominant emotion in politics and life," the article says.
President Yanukovych is already back-pedalling on the commitments he made a few days ago, it adds, but it's too late. "The historic process to remove Yanukovych from office has already been set in motion," it says.
In contrast, government-owned daily Rossiyskaya Gazeta doubts that Ukrainians are so keen on EU integration. It accuses Western politicians such as former Polish President Aleksander Kwasniewski, now EU special envoy, of putting pressure on Kiev and inciting the opposition to stage a coup.
"This legion of second-rate European politicians, who are eager to play the key role in something somewhere, are effectively turning into the main ideologues of the Ukrainian opposition," the state-run daily believes.
This is a line also taken by several private newspapers in Russia. An article in left-leaning daily Trud speaks of "unprecedented" interference by Western politicians in Ukraine.
"It is simply impossible to imagine that representatives of foreign states could appeal to rebellious citizens of another country somewhere in Europe or the USA," says the article, headlined "Wild dances in Kiev".
Komsomolskaya Pravda, a popular pro-government tabloid, is also scathing about the "Polish emissaries" whose visits to Ukraine, it says, are part of efforts by a "crisis-stricken Europe... to solve its problems at the expense of a naive Ukraine".
Other Ukraine-related headlines on the newspaper's website suggest it has little sympathy for protesters in Kiev: "Riot to become slaves", "A million fakes" and "The end of an era of Orange revolutions".
Dividing lines
In Poland itself, the mood in the press was more subdued. Centre-left daily Gazeta Wyborcza reflected on how the European issue brought together people from different walks of life in Ukraine.
"Some of them say they want a better life in the future, others are tired of the 'crooks' in power who can ruin the future of their children and grandchildren," an article on the paper's website says.
Centre-right daily Rzeczpospolita focuses on the much-discussed divide that it says runs down the middle of Ukraine.
"While its western part wants to go to Europe without Yanukovych, the east backs the president and Russia. While the moods in the west were radicalising, the east of Ukraine was quiet," says an article posted on the paper's website on 2 December.
German business daily Handelsblatt, however, argues that opposition to President Yanukovych is now spreading across Ukraine. "He can no longer rely on unconditional support even in his own ranks," the paper says.
France's leading centre-left daily Le Monde sees the protests in Kiev as a welcome reminder that the EU is still an attractive proposition.
"A show of love for the European Union is a pretty rare occurrence these days," says an editorial in the paper. "Absorbed by the debt crisis, the fight for growth and against unemployment, the rise of populism and the enlargement issue, the EU forgot that it is greatly attractive."
BBC Monitoring reports and analyses news from TV, radio, web and print media around the world. For more reports from BBC Monitoring, click here. You can follow BBC Monitoring on Twitter and Facebook.