Pope Francis meets Israeli PM Benjamin Netanyahu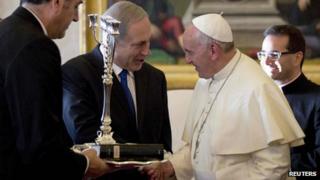 Israeli Prime Minister Benjamin Netanyahu has had his first face-to-face talks with Pope Francis.
The two leaders discussed the Middle East peace process, according to the Vatican.
Iran's nuclear programme, and the Pope's visit next year to Israel and the Palestinian territories, were also likely to have been on the agenda.
After meeting the Pope, Mr Netanyahu held talks with Italian Prime Minister Enrico Letta.
Mr Netanyahu, accompanied by six ministers, is on a two-day official trip to Italy.
He presented the pontiff with a copy of a book on the Spanish Inquisition by his late father, the historian Ben-Zion Netanyahu.
In his inscription, Mr Netanyahu described Pope Francis as "a great shepherd of our common heritage".