Bolshoi acid attack: Dmitrichenko 'deserves nine years'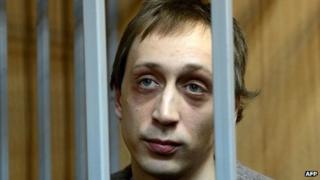 Russian prosecutors are demanding that Bolshoi ballet dancer Pavel Dmitrichenko be sentenced to nine years in jail for an acid attack on the company's artistic director.
Prosecutors say he was motivated by personal hatred for not being given good lead roles by Sergei Filin.
Sulphuric acid was thrown at Mr Filin outside his Moscow flat in January, badly damaging his eyesight.
Mr Dmitrichenko denies charges of masterminding the attack.
Prosecutors also asked for a 10-year sentence for Yuri Zarutsky, who is accused of having carried out the attack, and six years for a third man, Andrei Lipatov, who allegedly drove the getaway car.
During the trial Dmitrichenko admitted that he did want to "rough up" Mr Filin but had not intended to have acid thrown into his face.
"I never asked anybody to do what happened to Filin. Zarutsky said he would hit Filin, give him a couple of black eyes," he told the court.
Mr Filin's lawyer, Natalia Zhivotkova said the proposed sentences did not go far enough, adding that "all the defendants are guilty and, from our point of view, deserve no mercy".
Mr Filin has had more than 20 operations to try to save his eyesight.
Following treatment in Germany, he returned to Moscow. Wearing dark glasses he gave evidence at the trial which has revealed the bitter infighting within the company.
Since the incident the Bolshoi has undergone a number of changes, appointing a new director, Vladimir Urin, who told the BBC in July that the company faced "difficult challenges".