Silvio Berlusconi: Down but not out in Italian politics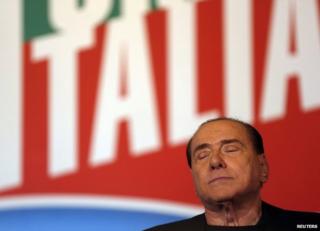 All the drama of Silvio Berlusconi's humiliating expulsion from parliament is captured in big bold type across the front of the Italian newspapers.
La Repubblica goes with the headline "Berlusconi Fallen Leader" while Corriere Della Sera has a picture of the man himself.
It was taken in the moments before he was stripped of his Senate seat on account of his recent court conviction for tax fraud.
The photograph shows him saluting his supporters and smiling. He almost seems to be laughing it all off.
"I'll Fight On" reads the headline.
But for the left-leaning La Repubblica, what happened had an importance beyond the fate of Silvio Berlusconi.
In the paper's view, the fact he was made to pay for his crime has bolstered the fundamental principle of the rule of the law in a country where too often it has been weak.
One of the paper's commentators writes: "Even in Italy, even for a political leader, in fact even for one of the most powerful men of the last two decades, the democratic rules have been shown to apply, and it is confirmed that the law is equal for everyone."
But, as you might imagine, the Berlusconi family newspaper Il Giornale sees it all very differently.
In its eyes, Italy's right-wing champion has been brought down in a conspiracy perpetrated by politically biased, left-wing judges.
"To kick a leader out of parliament is not a judicial act, but a political act," the paper says.
Janitor service?
Just a fortnight ago there was a serious split in Berlusconi's party and now he has been flung out of the Senate and barred from standing in any election for six years.
He has been driven out of the political front line.
In all his long and extraordinary career, there has never been a time when Berlusconi looked weaker, or more marginalised.
His legal troubles have grown, and they have bled badly into his political life.
The conviction for tax fraud triggered his expulsion from parliament and it is about to bring yet more humiliation.
His sentence will also actually involve him having to perform a period of community service of some kind that will start next year.
Berlusconi has talked of his horror at this. He has said Italy will be shamed if its former prime minister is forced, in his words, "to clean loos".
But whatever his service turns out to be, during it there will be limitations on his freedom to travel, hold meetings and generally operate as a normal politician would.
On top of this, the loss of his Senate seat has stripped Berlusconi of a degree of immunity he enjoyed from arrest.
And given that he has serious ongoing court cases, this will worry him.
At the same time, in some ways the political arena is changing in a manner that does not favour the former prime minister.
Tougher opponents
He has prospered in the past partly on account of the uninspiring quality of his leading opponents in the centre-left Democratic Party (PD).
But that side of the political equation is being re-shaped.
The comparatively young mayor of Florence, Matteo Renzi, looks set to win the PD leadership primary next month.
There is a degree of much-needed generational change taking place in the ranks of Berlusconi's rivals that could make his offer to the electorate look rather old and weary.
Berlusconi used to dance and glide around the Italian political ring, a bit like a champion boxer.
At election time he could deliver fairly effortless knockouts.
But these days his punches just do not connect in the way they used to.
He gets hit harder and more often.
And yet for all that, when he talks of fighting back everyone here knows that he needs to be taken seriously.
Fightback?
He will continue to lead his party from outside parliament.
And that will not be anything new for the Italian political scene.
The leading figure in the big anti-establishment Five Star Movement, Beppe Grillo, is not a member of parliament.
And if Mr Renzi does take over the reins of the PD, the nation's largest party will be led by a man who does not have a parliamentary seat.
But most importantly, as the Berlusconi's family newspaper has been quick to point out, the former prime minister continues to attract significant electoral support.
Il Gironale's editor writes: "An expulsion from the Senate will not prevent Berlusconi from being the leader of millions of Italians who hope for a free and liberal country."
And as one of the country's richest men, Berlusconi has vast financial resources to fund his continuing political ambitions.
He also has at his disposal a press and television empire that can take his message into countless Italian homes.
"The political story of Silvio Berlusconi didn't finish yesterday," veteran political analyst Roberto D'Alimonte writes in the business paper Il Sole 24 Ore.
He refers to Berlusconi's core support, and then says: "As long as he can count on these votes, and his financial and media resources... he is not finished.
"His challenge now is to maintain the loyalty of those voters."
On this day after his parliamentary humiliation, nobody in Italy imagines that they have heard the last of Silvio Berlusconi.