Greenpeace Arctic 30: Russia bails last activist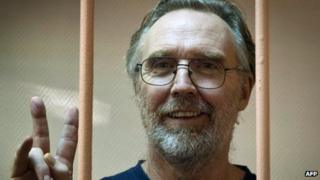 A Russian court has granted bail to the last Greenpeace activist detained at sea for protesting against Arctic oil-drilling.
A court in St Petersburg ruled that Colin Russell, an Australian national, would be kept in custody until the bail of two million roubles ($60,000; £37,000) was paid, Interfax reports.
The other members were bailed earlier this month after several weeks in jail.
They each face a maximum sentence of seven years in jail.
Ben Ayliffe of Greenpeace International said: "A new chapter starts today. But this is not over yet. They still stand accused of a crime they did not commit.
"They took peaceful action on behalf of us all, standing up against destructive Arctic oil drilling and the onslaught of climate change," Mr Ayliffe was quoted by the Press Association as saying.
Russian border guards arrested 30 people on board the Arctic Sunrise ship in September after some of the activists tried to scale an offshore drilling platform owned by state-owned natural gas giant Gazprom in the Pechora Sea.
The 30 - 28 activists and two freelance journalists - were initially charged with piracy, but authorities revised it to hooliganism.
Mr Ayliffe said the charge was "an insult and an outrage" and that there would be no celebrations until the charges were dropped and the crew allowed to return home.