German press unenthusiastic about grand coalition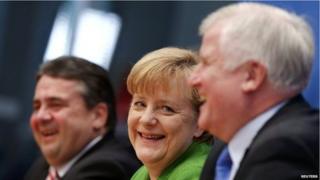 News that Germany's two main parties have agreed on a "grand coalition" came in the early hours of the morning - too late for newspapers' print editions.
As is often the case these days, the news was broken through the medium of Twitter: "Knot broken. Deal reached," Michael Grosse-Broemer, chief whip of Chancellor Angela Merkel's Christian Democrats, tweeted at 04:00.
Germany soon had a new trending hashtag: #GroKo - for "Grosse Koalition".
But the predominant mood among press commentators is one of wariness and resignation rather than enthusiasm.
"Good morning Germany, THIS is what we have to look forward to," is the front-page headline on the website of tabloid Bild.
"This was an extraordinarily tough struggle," it adds of the late-night negotiating marathon.
Grand stagnation?
The fate of the deal now rests on a ballot of the Social Democrat party's 470,000 members.
"Vote yes, comrades!" a front-page commentary on the website of the centre-left Sueddeutsche Zeitung urges them.
Its writer, Thorsten Denkler, agrees that it is clearly "not easy" for rank-and-file Social Democrats to face another four years as Angela Merkel's junior partners, after the last such tandem - between 2005 and 2009 - left their party at its lowest electoral ebb since World War 2.
But he points out that the Social Democrats have pushed through many of their key demands, including on the new minimum wage, pensions and double citizenship.
In any case, rejecting the deal would lead to a "crisis of government" and new elections that seem unlikely to improve the Social Democrats' lot, he adds.
In centre-right Frankfurter Allgemeine Zeitung, chief political editor Jasper von Altenbockum is not hopeful about the new grand coalition, and dubs it the "grand stagnation".
He criticises what he sees as plans for additional public spending without corresponding savings, as well as the minimum wage ("the regulation craze is back"). "This coalition does not move Germany forward," he concludes.
Christmas presents
In the centre-left news magazine Der Spiegel, Roland Nelles accuses the two parties of "planning to spend billions" without clear ideas about where the money will come from.
"This pudding will sit heavily in Germans' stomachs," he says, in a riposte to reported remarks earlier in November by Chancellor Merkel - in English - that the "proof of the pudding is in the eating".
"The next crisis is unavoidable, and then all this money will have to be taken away from people again. But then the next coalition can worry about that, presumably," Nelles says.
In a seasonally-tinged article in Der Tagesspiegel, Antje Sirleschtov also mocks what she sees as gaps in the coalition's spending plans. "The coalition deal hands out presents like it's Christmas - and will cost correspondingly more," she says.
But on the whole, she is cheerful about the agreement: The extra spending will at least "strengthen the sense of fairness" while "not overly taxing the economy", and is in any case "probably affordable", she thinks.
'Job-preventing'
Many commentators had already anticipated a likely grand coalition in yesterday's opinion pages.
In centre-right Die Welt, Dorothea Siems is already feeling pangs of nostalgia for the free-market liberal Free Democrats, Chancellor Angela Merkel's previous junior coalition partner, who failed to make it into parliament.
"If you look at the long list of job-preventing regulations, expensive social welfare goodies and additional burdens on the taxpayer that have already been agreed, and it becomes clear how dearly the change of partner forced on the Christian Democrats by the voter will cost Germans," Siems writes.
In the previous government, she adds, the Free Democrats were "at least able to defend the status quo on economic issues".
BBC Monitoring reports and analyses news from TV, radio, web and print media around the world. For more reports from BBC Monitoring, click here. You can follow BBC Monitoring on Twitter and Facebook.