Media take partisan positions on Ukraine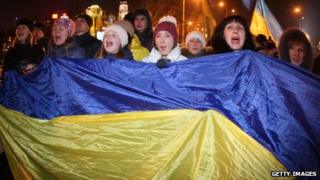 Two days of anti-government protests in Ukraine over closer ties with the European Union have caught the full attention of the country's television stations, regardless of their political leanings.
In Russia, where the Kremlin is hoping to persuade Ukraine to join a Russian-led customs union, the top state-run TV channels show no sympathy for the Ukrainian pro-EU demonstrators, with official state channel Rossiya 1 describing their actions as a "provocation". Other channels are emphasising the economic risk European integration would carry for Ukraine.
Ukraine
The news-based TV station 5 Kanal, owned by confectionery tycoon Petro Poroshenko, on whose Roshen chocolates Russia has recently imposed an import ban, is unabashedly on the side of the pro-EU protesters. All of the country's channels carried in-depth coverage over the two days, but 5 Kanal's presenters and correspondents are visibly enthusiastic about the scale of the anti-government rallies.
The channel has shown numerous reports on the way protesters in central Kiev are living, and the removal of protest camps elsewhere in Ukraine. It also looked at the political implications of President Viktor Yanukovych's decision, with MPs and pundits speaking on both sides of the argument.
Nor did it neglect the pro-government gathering on Sunday, but pointed out that it involved public-sector employees and students, one of whom was shown saying they were paid to attend.
The STB channel, which is owned by influential pro-European businessman Viktor Pinchuk, on Monday described the pro-EU protests as the "main event in the country". While its sister channel, ICTV, led its late afternoon bulletin with a comprehensive report on the rally at the Cabinet of Ministers building, including interviews with students who had accused police of beating them up during clashes there.
Ukrayina TV, owned by a man said to be close to the president - Donetsk tycoon Rinat Akhmetov - is nonetheless balanced in its coverage, on one day comparing the pro-EU rallies to the 2004 Orange Revolution in a 20-minute report, and on the next noting that those who took part in the pro-government rally were mostly workers at large state-owned plants.
The government does not lack advocates in the media, for instance on state-owned UT1. After highlighting charges against activists detained during clashes with the police in its Monday afternoon bulletins, the channel moved on to showing pundits advocating closer economic cooperation with Russia. And a report from Donetsk carried a lengthy soundbite in which a young girl said she was afraid of "liberalisation" since Ukrainians "are not used to things like homosexuality".
Russia
Events in Ukraine have also dominated Russian TV channels, which are uniformly disapproving of the protests. State channel Rossiya 1 has been particularly hostile to pro-EU Ukrainians, as good as suggesting that the core of protesters were militants sponsored by the West and augmented by rent-a-crowds.
Revolutions are an expensive business, it said, going on to make claims about how money was on offer to induce people to take part in protests. The channel clearly implied involvement by the West. It argued that the protests were spearheaded by a body of agent-provocateur "storm troops" and added that the opposition is taught these techniques at "seminars" at such venues as the US embassy in Kiev.
Privately-owned Ren TV, meanwhile, warned of dire economic consequences for Ukraine in the event of integration with Europe.
State-controlled Channel One's message has been a mixture of Rossiya 1 and Ren, with observations on what it described as the protesters' "hooligan" behaviour and a warning that Ukrainians' living standards would tumble as prices rose to "European" levels.
Moreover, Rossiya 1 and Channel One both reported that tear gas was used by the protesters and not, as international news media outlets reported on the day, against them. The channels showed video clips in such a way as to back the report up.
"Which side used tear gas is unclear," says Gazprom-owned Russian NTV, although it does acknowledge the scale of the pro-Europe protests - the largest since the Orange Revolution, it says.
BBC Monitoring reports and analyses news from TV, radio, web and print media around the world. For more reports from BBC Monitoring, click here. You can follow BBC Monitoring on Twitter and Facebook.