Q&A: EU-Russia battleground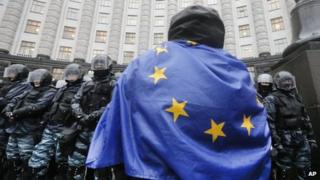 A battle for the hearts and minds of Ukrainians overshadowed an "Eastern Partnership" summit between the European Union and six former Soviet states in late November.
Ukraine abruptly decided not to sign a far-reaching trade and association agreement with the EU, triggering an angry exchange between the EU and Russia. The summit failed to break the deadlock.
What is at stake?
The EU wants to forge closer ties with Ukraine, Moldova, Belarus and three states in the Caucasus - Armenia, Azerbaijan and Georgia. All these former Soviet states have remained to some extent in Russia's sphere of influence since the Cold War ended.
Years of negotiations led up to the summit in Vilnius, Lithuania, on 28-29 November. Ukraine deflated EU hopes - and earlier Armenia had also pulled out of an association agreement, saying it would join Russia's customs union instead.
The EU initialled similar agreements with Georgia and Moldova - they are not yet ready to be signed.
The EU launched the partnership in May 2009 - less than a year after Russia defeated Georgia in a brief war, pushing Georgian forces out of two breakaway regions.
Favourable access to the huge EU single market and the lifting of visa restrictions are on offer - but in return the EU insists that the six play by EU trade rules, which means bringing many of their laws into line with the 28-nation bloc's standards.
The EU also describes the partnership as "based on a community of values and principles of liberty, democracy, respect for human rights and fundamental freedoms, and the rule of law". That is more an aspiration than a reality, as EU politicians have criticised major human rights abuses in Azerbaijan and Belarus in particular.
The EU allocated nearly 2.5bn euros (£2bn; $3.4bn) to Eastern Partnership projects for 2010-2013.
Will these countries join the EU?
Not yet. But association agreements are seen as a key step towards EU membership. That was the case for several former Soviet bloc countries which are now in the EU, and the same process is under way in the former Yugoslavia.
Once on the path towards EU membership, countries like Turkey, for example, get millions of euros in EU funding for various development projects.
But the partnership is also about long-term geostrategic interests.
Azerbaijan is now a significant oil and gas exporter to the EU. So creating a stable economic partnership with the Caucasus is strategically important for the EU. In future, the Caucasus is set to be a transit route for bigger volumes of energy from Central Asia.
How has Russia reacted?
The Ukraine decision soured EU-Russia ties, which were already difficult.
Russia's President Vladimir Putin accused the EU of using "pressure and blackmail" against Ukraine. EU leaders directed similar accusations at Russia, saying they "strongly disapprove of the Russian position and actions" towards Ukraine.
Critics have accused Russia of using strong-arm tactics to steer some neighbouring states away from the EU and towards its own rival customs union, often barring foreign imports on health grounds.
Russia has in the past cut Ukrainian gas supplies in mid-winter, and recently raised another dispute over unpaid bills.
It has also increased border checks with Ukraine and banned imports of sweets from a big Ukrainian firm, Roshen, over alleged health concerns.
Russia has banned imports of Moldovan wine - a key industry for the country blighted with the label "poorest country in Europe", and made a veiled threat to cut Moldova's gas supplies in winter.
Since the early 1990s Russia has been backing separatists in Trans-Dniester, a region that broke away from Moldova. In the past Russia has also banned imports of Georgian wine and mineral water.
Is Ukraine really the big prize?
Yes, potentially. Ukraine has a population of 45 million and is one of Europe's biggest countries, dwarfing the other five partner states.
Vital Russian gas export pipelines cross Ukraine to supply EU customers - the EU gets about a quarter of its gas from Russia.
Poland and Lithuania are strong voices in the EU arguing that independent Ukraine must be brought firmly into the European fold after centuries of domination from Moscow.
But Ukraine is still a long way off becoming an EU member and there is much talk in the EU of "enlargement fatigue" after the bloc's big eastward expansion and the expense of that.
Ukraine lags far behind many of its European neighbours economically and has a high corruption rating.
Ukraine's trade volumes in goods with the EU and Russia are similar. In 2012, about 26% of its exports went to Russia and 25% to the EU. For imports, 32% came from Russia and 31% from the EU, the World Trade Organization reports.
In 2012 EU imports from Ukraine amounted to 14.6bn euros, and exports to Ukraine totalled 23.8bn euros.