Immigration fears spook British government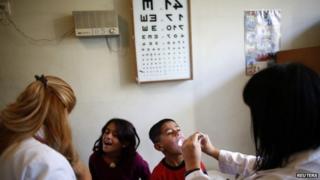 Last week the UK's Immigration Minister Mark Harper tried to calm the rising agitation about migrants arriving in the New Year from Bulgaria and Romania.
It would be a "fool's errand", he said, to make a stab at numbers. In 2004, the UK was the only major country not to have controls on migrants coming from Poland and more than 600,000 arrived in Britain.
This time, he said, Bulgarians and Romanians would have the choice of many countries including Germany and including places like Italy and Spain where there are already Romanian communities.
Most importantly, the minister tried to shut the door on a proposal that the government should extent the current controls beyond New Year's Day.
"It simply isn't legally possible," he said. "Treaties would have to be amended. It would not be complicit with treaty obligations."
And then came the polls. By a huge majority those polled did not want a new round of immigration. Some 85% feared schools and hospitals could not cope.
The issue touches on sensitive issues like control of borders and who, ultimately, is responsible for the benefits system. The polls reflect a deep mistrust about earlier commitments made by politicians to establish a "firm control over immigration".
Wage gulf
And then came the hints that the government was examining extending the period before Bulgarians and Romanians would be able to claim benefits. They might have to live in the UK for up to a year before they would qualify. They would not, for instance, be able to seek the job-seeker's allowance on arrival.
Education Secretary Michael Gove said: "When it comes to new migrants from accession countries in the EU, we need to look properly at the benefits system here to make sure people are coming here to work and contribute, not to take advantage of what is rightly a generous welfare system."
Suddenly, there was the prospect of Prime Minister David Cameron defying the EU, for member states are barred from discriminating between their own citizens and migrants from other EU states. To breach that regulation would almost certainly trigger a legal row which would end up before the European Court of Justice.
I was in Bulgaria last week. It is hard to assess the numbers who will migrate, let alone to Britain, but there are plenty of people who say they will make the journey.
In the end, the discrepancies in wages are too hard to resist. The average annual wage in Bulgaria is about £4,000 compared to £26,000 in the UK. My colleague Emma Jane Kirby found Bulgarian doctors hoping to earn ten times as much in Germany or the UK.
Bulgarian Prime Minister Plamen Oresharski told me: "For sure some Bulgarians will try and work in Britain. Most of them will look for proper work rather than taking advantage of the welfare system."
But the fear remains that some immigrants will not look for, or find, regular work.
So some EU countries are agonising over how to respond to the lifting of travel and work restrictions. The Times reports that 16 German cities have written to Chancellor Angela Merkel saying they cannot cope with the new arrivals and asking for emergency help from the beginning of next year. Some German politicians openly agree with some of the concerns raised in the UK.
"If Britain wants to enforce its welfare laws better," says Peter Wilding, director of the pro-EU lobby group British Influence, "it has, like the Germans, a wellspring of European goodwill to do so and the allies to push it through".
Defiance
So what is to be done? For David Cameron there are no easy choices. To defy the EU would cause more than a ripple within his coalition. Some Liberal Democrats would resent a further row with Brussels.
In Europe, some countries would see it as another example of the UK's alienation from the European project. It might make re-negotiation of terms of membership more difficult - but defiance might prove popular with voters.
This controversy raises wider themes. The freedom to move and work in the EU is regarded as a core achievement. Many have taken advantage of it.
But times are difficult and unemployment remains stubbornly high. Despite the billions that have been spent on trying to reduce the inequality between countries like Romania and Bulgaria and the rest of the EU, the standards of living are very different. It reveals just how difficult it is to bring the economies of all 28 EU members closer together.
It is also a period of tension between what governments want and their EU obligations. Yesterday the streets of Paris were filled with riding enthusiasts and their horses protesting against an increase sales tax on riding schools, imposed via a European Commission directive with the backing of the European Court of Justice.
It has triggered the anger of the 2.3 million people who ride. The French government says it is sympathetic to the protests and may try to renegotiate the directive but, in the short term, it will not defy Brussels.
Defiance is a big step, and the UK may have a significant number of allies if it seeks temporary relief from the lifting of restrictions on 1 January.