Paris shootings suspect Abdelhakim Dekhar charged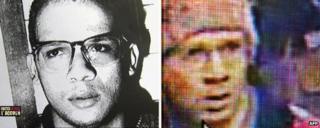 Preliminary charges of attempted murder and kidnapping have been lodged against a man held on suspicion of carrying out recent gun attacks in Paris.
Abdelhakim Dekhar was arrested in a car park in Paris on Wednesday after French police launched a large-scale manhunt.
He is suspected of threatening a TV station a week ago, before attacking a newspaper office and bank HQ on Monday.
Prosecutors have said that samples of DNA from Dekhar, 48, matched that from the crime scenes.
His lawyer, Remi Lorrain, has complained of "violations of his right to be presumed innocent".
The spate of attacks started on Friday 15 November, when a gunman threatened the Paris TV station, BFMTV.
Then on Monday, a photographer's assistant was seriously hurt in a shooting at the left-wing newspaper, Liberation, before shots were fired in front of the headquarters of the Societe Generale bank in the Paris business district of La Defense.
Abdelhakim Dekhar was arrested on Wednesday in an underground car park in the Paris suburb of Bois-Colombes following a tip-off from a member of the public.
He was found in a semi-conscious state after an apparent suicide attempt.
The French authorities say Dekhar was jailed in 1998 for his role in a string of fatal shootings in Paris.
He was sentenced to four years in jail, but was released soon after the verdict, having already served his time in pre-trial detention.