Greenpeace protest: UN court orders Russia to free ship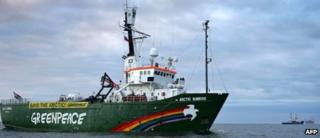 A UN maritime tribunal has ordered Russia to free a Greenpeace vessel and 30 people detained after an oil drilling protest in the Arctic.
The court in the German city of Hamburg said a bond of 3.6 million euros ($5m) should be posted.
But a Russian statement issued after the ruling said the Hamburg tribunal had no jurisdiction in the case.
The Arctic Sunrise and its crew were detained two months ago. All but one of those held have now been granted bail.
An Australian activist, radio operator Colin Russell, remains in custody in St Petersburg; Greenpeace is to appeal against his detention next week.
The ship's captain, veteran American activist Peter Willcox, was among those freed on Friday. Eleven others were released earlier in the week.
Greenpeace said all those released had been moved to an undisclosed location in St Petersburg.
They were originally held in a jail in Murmansk where some activists had complained of being cold and of poor conditions.
It is still unclear whether they will now be allowed to leave Russia.
'Violating international law'
The Arctic Sunrise was sailing under a Dutch flag when it was stopped and searched on 18 September.
Thirty people - 28 activists and two journalists - were detained.
The Dutch authorities, who brought the case, argued that Russia had violated international law by failing to respect the freedom of navigation.
The Greenpeace activists were staging a protest against Arctic oil drilling at a Russian fixed gas platform.
Initially they were charged with piracy, but the charges were later reduced to hooliganism.
Russia argues it was entitled to make the arrests because it claims the activists were breaking Russian laws.
The Hamburg tribunal is an independent, international judicial body which adjudicates in disputes over the interpretation and application of the UN Convention on the Law of the Sea.
It is made up of 21 elected members.
The Russian Foreign Ministry said it would study the tribunal's ruling.
Unforgettable experience
The other 17 detainees to leave prison or to be granted bail on Friday were:
Six Britons: Anthony Perrett, Alexandra Harris, Iain Rogers, Jonathan Bush, Frank Hewetson and Kieron Bryan
Marco Weber of Switzerland
Mannes Ubels and Faiza Oulahsen of the Netherlands
Paul Ruzycki and Alexandre Paul of Canada
Jonathan Beauchamp of New Zealand
Miguel Hernan Perez Orsi of Argentina
Ruslan Yakushev of Ukraine
Gizem Akhan of Turkey
Russians Roman Dolgov and Dima Litvinov.
One of them, Anthony Perrett, told the BBC via Skype after he was freed that it was "certainly an experience I won't forget in a hurry."
"I'm feeling very good, very glad to be out of prison and raring to get back to work [in forestry].
"At the moment things are a little bit uncertain so I'll be staying in St Petersburg for the foreseeable future."