EU seven-year budget adopted by MEPs in Strasbourg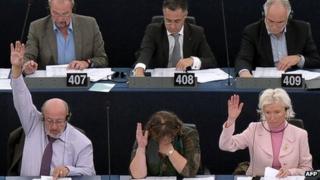 The European Parliament has given final approval to the EU's long-term budget for 2014-2020.
The 960bn-euro (£805bn; $1.3tn) budget cuts real spending for the first time.
The real-terms cut of 3.5% - or 35bn euros - particularly affects EU spending on Europe's poorer regions, a policy area called "cohesion".
There was no cut in EU funds for research, humanitarian aid and border controls. In future it will be easier to switch funds between budget areas.
The budget - called the Multiannual Financial Framework (MFF) - was adopted by 537 votes to 126. Most of the opposition came from Eurosceptics, the European Left bloc and the Greens.
A political deal on the MFF was reached with EU governments in June, but MEPs bargained for certain conditions, which were finally included in the plan:
Greater flexibility on switching budget funds;
EU to retain unspent budget funds, rather than returning to national governments
extra money for 2013 to cover outstanding bills in the current EU budget;
and a review of the EU's "own income" resources - that is, EU funds raised directly through taxes, rather than as contributions from national governments.
Major trans-national infrastructure projects, help for poorer regions and agricultural subsidies remain the largest areas of EU spending.
The EU budget is equivalent to 1% of the 28 member states' total Gross National Income (GNI - a measure of total economic activity).
In a separate development, the EU's top court - the European Court of Justice - ruled against a 1.7% staff pay rise which the European Commission had requested.
The level of EU staff salaries and pensions has been frozen since 2011 and the court saw no reason to change that. Its ruling upheld the view of a majority of EU governments - jointly called the Council - who decided that EU remuneration should reflect the budget austerity imposed by national governments on their own administrations.
The UK Treasury welcomed the ECJ ruling. Treasury Economic Secretary Nicky Morgan said that "as a result of this case, in which the UK played a leading role, Europe's governments have stopped the unjustifiable increases to EU salaries and pensions for 2011.
"When governments and families across Europe are taking difficult decisions to make savings, it would be wrong and irresponsible for the EU to not show similar restraint," he said.