Italy police hold 45 Mafia suspects in Brindisi raids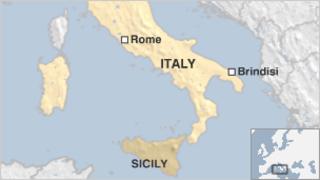 Police in southern Italy have arrested at least 45 suspected members of a Mafia gang operating near the port city of Brindisi.
The suspects have been charged with 150 different crimes, including murder, drug trafficking and extortion.
Police believe they are members of an organisation called the United Sacred Crown that operates largely in three towns near Brindisi.
The suspects allegedly forced local businesses to pay protection money.
There are also allegations that gang members had explosives and carried out bombings.