Returning hero Sivan Perwer divides Kurds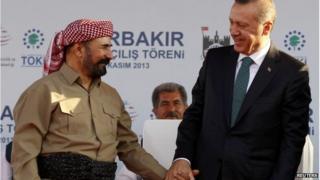 An iconic singer's return from exile has opened up a divide among Turkey's Kurds, who may be at a crossroads in their history.
There is a legend that a Kurdish peshmerga fighter, facing surgery with no anaesthetic, decided to get through the operation by singing Sivan Perwer songs.
The fighter is said to have felt no pain - such is the reported effect of Sivan Perwer's music on Kurdish life (and medical science).
Over the last three decades, the singer's music has become a symbol of Kurdish national identity. He has helped to define a people without a state.
Songs banned
"Who are we?" he asks in one of his most famous songs. "The Kurd of Kurdistan, a lively volcano, fire and dynamite in the face of the enemy."
Sivan Perwer was born in Turkey in 1955, part of the country's Kurdish minority. He became famous for singing against the oppression of the Kurdish people and, in 1976, he went into exile.
Inside Turkey, his songs were banned; Kurds had to listen to his songs on smuggled cassettes.
In 1984, the Kurdish armed movement, the PKK, began its armed uprising against the Turkish state. For Perwer, going home never seemed to be much of an option. He lived, instead, in Germany and in northern Iraq.
But over the past year, much has changed. The Turkish government has begun a halting peace process with the PKK.
It has also introduced a series of reforms designed to make more room for the use of the Kurdish language (in particular, it has ended the ban on the official use of the letters q, w, and x - used in Kurdish but not Turkish).
But something else explains Sivan Perwer's return to Turkey: the growing political and economic alliance between Turkey and the Kurdish region of northern Iraq.
Turkey's Prime Minister, Recep Tayyip Erdogan, and the leader of the Kurdish Regional Government of Northern Iraq, Massoud Barzani, have formed their own alliance.
It is based on mistrust of the PKK (and its offshoot, the PYD in Syria) and on a desire to do business and energy deals between Turkey and northern Iraq.
Mr Erdogan invited Massoud Barzani for talks in Diyarbakir, in Turkey's Kurdish region. And, perhaps to demonstrate his influence in the wider Kurdish movement, Mr Barzani decided to bring along his close friend, Sivan Perwer.
300 weddings
Some Kurds in Turkey are uneasy about the circumstances of their most famous singer's return. But, at a coffee shop in Diyabakir, one Iraqi Kurd can hardly wait.
"I'm very excited," says Samir Asad, smiling.
He has made the journey from Sheffield in the UK, where he works in a kebab shop. He hopes to see Perwer sing.
"When I hear [Perwer's] name, I am happy," says Asad, "We have a long history with his singing."
On the outskirts of Diyarbakir, there is a long, polite queue to get into the university sports hall. The queue is largely made up of 300 nervous couples, who will take part in a mass wedding. Perwer has essentially been hired as their wedding singer.
To cheers, the singer enters the hall with Mr Erdogan and Mr Barzani. A giant Turkish flag flies from one side of the building. From the back of the hall Sivan Perwer is easy to make out in his traditional Kurdish khaki dress, and red and white chequered head-dress.
"Peace, friendship - like siblings. This is what we are hoping for," Perwer tells the audience in Turkish. "We are at the service of those who try for peace, whoever they may be."
Rival festival
Mr Erdogan and Mr Barzani then go on stage to preside over the mass wedding. It is an official state ceremony, so it is conducted in Turkish. From the audience, the 300 couples shout: "I do."
One of Mr Erdogan's aides takes care to brush from the prime minister's suit the confetti that is showered onto the stage.
The politicians take their seats in the front row. Sivan Perwer goes on stage with Ibrahim Tatlises, a Kurdish singer who is famous for his love songs (unusually for a love singer, Mr Tatlises has been the target of three assassination attempts).
One audience member, perhaps overcome by the thrill of marriage, jumps onto the stage, dances with the singers, and unfurls a small Turkish flag.
Sivan Perwer's return to Turkey exposes a rift within the Kurdish movement. Some Kurds in Diyarbakir accuse their most famous singer of allowing himself to be co-opted by Mr Erdogan and Mr Barzani, as part of an attempt to marginalise the PKK, a movement that Turkey designates as a terrorist organisation.
In the centre of Diyarbakir, several hundred Kurds organise a rival festival of their own. They dance to traditional music, and wave yellow flags with the face of Abdullah Ocalan, the imprisoned PKK leader.
"We want [Perwer's] arrival to be a contribution to peace," says one man sceptically. But none of this crowd rushes to try to see him in concert.
Those who have been invited to the university hall, on the other hand, look slightly startled to see the world's most famous Kurdish singer on stage just for them.
"It's great. We're so proud," says one of the newly married couples. "It's an unexpected excitement for us."
In exile, Perwer sang of "fire and dynamite in the face of the enemy". But a wedding calls for a different set list. Sivan Perwer serenades his audience, including the Turkish prime minister, with a love song in Kurdish.
"Leyla, you have become a fire in my heart. Leyla, Leyla, Leyla, Leyla."
Suitably moved, the politicians and the singers leave the hall. Brides wearing high heels take care not to trip over balloons on their way out.
Anyone able to pick past the confetti can now make it to the empty seats in the front row. On the returned singer's chair, a white sticky label reads: "Sivan Perver."
His surname is spelled the Turkish way, with a "v", not the Kurdish way, with a "w".