Students protest over austerity cuts in Italy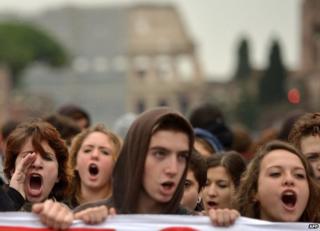 Concern over cutbacks to education has sparked a strike by students across Italy in a week of college unrest across the European Union.
Scuffles broke out with riot police at some marches as protesters rallied in the capital Rome and cities from Turin in the north to Palermo in the south.
They are protesting against proposed spending cuts in the 2014 budget and calling for greater investment.
In Bulgaria, students are demanding a change of government over corruption.
Opposition to the Socialist-backed minority government spilled into the streets this week as protesters tried to surround parliament in the capital Sofia and were driven back by riot police.
Sweden also saw college protests this week, with students protesting against what they called the privatisation of higher education.
A government initiative there would offer universities more autonomy by allowing private foundations to manage them but students view the change as a threat to their education, Radio Sweden reports.
In Greece, the most indebted state in the eurozone, strikes by administrative staff have kept the two largest universities - Athens University and the National Technical University of Athens - closed for 10 weeks.
They are protesting at plans for a labour mobility scheme, the Greek newspaper Kathimerini reports.
Red banners
In Italy, students are protesting against the policies of the fragile coalition government led by centre-left Prime Minister Enrico Letta, who is making cuts to bring the budget deficit into line with EU limits.
The European Commission, the EU's executive arm, has warned Italy, the eurozone's third largest economy, that its draft budget may not comply with new debt and deficit rules.
"We want the right to education, life and work" read placards among the marchers in Rome, some of whom waved red banners and let off flares.
Clashes with police were reported in Turin, Bologna and Palermo.
Students took to the streets again in Sofia, Bulgaria on Friday to confront police guarding the national parliament.
Only months after the last general election, the Socialist-backed technocratic government of Prime Minister Plamen Oresharski has lost support amid allegations of corrupt ties with business groups in the EU's poorest state.
However, the International Monetary Fund endorsed Mr Oresharski's efforts to restore economic stability this week "despite political and social challenges and external headwinds", in the words of IMF official Michele Shannon.
Spanish fast
Spain is poised to exit an aid programme for its banking sector in January, eurozone finance ministers announced this week.
But unrest over austerity continues in the country, notably taking the form of a strike by street cleaners in the capital Madrid, now in its second week.
Workers are striking over plans to cut hundreds of jobs and reduce the pay of remaining employees.
Separately, a group of five Spaniards are on hunger strike in Madrid in protest at corruption and austerity.
Demanding the resignation of the centre-right government of Prime Minister Mariano Rajoy, they have reportedly been accepting only liquids - two of them for more than a month now.