Twelve 'Syrian' migrants die off Greek coast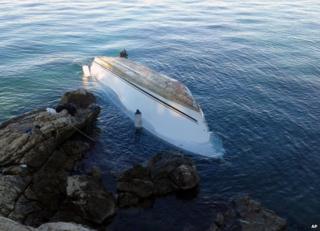 At least 12 undocumented migrants, four of them children, have drowned after their fibreglass boat sank off Greece.
The authorities were alerted to the incident early on Friday by 15 survivors who made it to shore on the island of Lefkada in the Ionian Sea.
A Greek police source said the dead people were "most probably" refugees from the conflict in Syria.
The mayor of Lefkada said it was unclear why the boat had sunk as weather conditions were good.
"Some of the survivors managed to swim to the shore and call for help," Mayor Costas Aravanis told the Associated Press news agency.
"They were not sure exactly how many people were on the boat so we still don't know if there are others still out there."
Greek government spokesman Simos Kedikoglou said the "new tragedy off Lefkada" confirmed the "need to immediately implement initiatives taken by the European Union, with Greece's initiative, too, to deal with the problem of illegal migration".
Duped by traffickers?
According to the merchant marine ministry, the migrants were aboard a boat that was 7-8m (23-26ft) in length.
A search and rescue operation is under way to try to locate more possible victims and survivors.
Greece is one of the main destinations for migrants and refugees trying to enter the European Union.
Correspondents say there has been a sharp increase in sea-borne refugee traffic over the past year because of stricter controls on the Greek-Turkish land border to the north and the ongoing war in Syria.
"There have been cases in the past where smugglers tricked the immigrants and left them on Lefkada, claiming they had arrived in Italy," said Mr Aravanis.
This latest incident comes amid increased scrutiny of the EU's immigration policy following the death of almost 400 asylum seekers who recently drowned off the Italian island of Lampedusa in two separate incidents.