James 'Whitey' Bulger's IRA links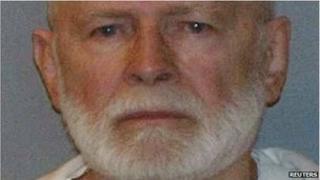 The US mobster James 'Whitey' Bulger, who was convicted of 11 murders after spending 16 years on the run, has been jailed by a Boston court. BBC News looks at the Irish American's links to the Irish Republican Army.
As well as being a mobster, James 'Whitey' Bulger liked to think of himself as an Irish patriot.
His power base was south Boston, a blue-collar Irish-Catholic area during Bulger's criminal heyday.
Nowadays Southie, as the area is known, is more of an ethnic melting pot, being gentrified by young professionals.
But in the 1970s and 1980s it was a part of the city where collection tins were rattled in bars to raise money for the families of IRA prisoners.
One of the 11 people Bulger was found guilty of killing, John McIntyre, died after informing the American authorities about a foiled gun running trip organised by Bulger's Winter Hill gang from the US to the Irish paramilitary group.
Tonnes of explosives
In September 1984, a fishing boat called the Valhalla left Gloucester harbour in Massachusetts.
Full of fuel, bait, ice and weapons, it was seized two weeks later by US Customs agents after stopping in Boston on its way home.
During its voyage the Valhalla had rendezvoused with the Irish fishing vessel, the Marita Ann, and tonnes of explosives and weapons were transferred.
Two Irish naval vessels stopped the Marita Ann off the coast of County Kerry seizing the weapons and arresting her crew, which included a future Sinn Féin member of the Irish parliament, Martin Ferris.
The plot had been betrayed by an informant in the Republic of Ireland, Sean O'Callaghan.
He was an IRA man who had become disenchanted with the group and was working as an agent for the authorities.
No weapons were found on the Valhalla on its return except for an empty 9mm bullet casing.
One of the crew on the Valhalla was fisherman John McIntyre.
FBI agent
During Bulger's trial a former US customs agent, Donald DeFago, testified that several days after the ship was stopped, McIntyre was arrested on a drunken driving charge and mentioned drug runs to the arresting officers.
During one interview, also present was an FBI agent who was friendly with John Connolly, a corrupt FBI agent.
After hearing about the interview, Connolly told Bulger that McIntyre had been talking to the authorities.
McIntyre had told officers about drug smuggling activities of the Bulger gang and the gun-running.
He had not apparently mentioned Bulger by name, but had mentioned other members of the gang.
A raid on a Norwegian freighter and the seizure of 36 tons of marijuana belonging to the gang followed.
Mr DeFago said McIntyre was approached by Bulger associate Patrick Nee and offered a role in a drugs smuggling deal with a $20,000 (£12,400) buy in.
This was supplied by US Customs and after meeting Nee in a Boston restaurant McIntyre was told to keep in touch with his handlers every day.
He stopped calling his handlers and despite their efforts to find him, his fate had been sealed.
His body was found 16 years later.
Tortured
McIntyre had been brought by Nee to a house where Bulger and two other gang members were to "talk" to him.
He was tortured until he confessed he was an informant and then killed.
One of the gang members was Kevin Weeks who told the Bulger trial that after McIntyre was tortured: "Jim says to him, 'do you want one in the head? And he says, 'yes, please'."
His body was buried in a cellar before being moved to a pit in Dorchester where it was found in 2000, along with two other alleged Bulger victims.
The trial was told that his body was identified through matching DNA belong to his mother.
In 1994, Connolly told Bulger he would be indicted on racketeering charges, which began his decades on the run.
Republican sympathiser
Patrick Nee later wrote a book recalling his exploits as a member of the Boston mob.
In Criminal and an Irishman, The Inside Story of the Boston Mob and the IRA, he said that Bulger was a republican sympathiser.
He wrote that Bulger "loved being associated with the IRA and the cause of Irish freedom".
He said that Bulger felt his association with the "struggle" gave him legitimacy.
Nee wrote that Bulger had met one of the founders of the IRA, Joe Cahill, when the Belfast man came to Boston to rally US support for the IRA.
During his time on the run there were reports that Bulger had been spotted in Ireland, with the story being that the IRA was helping him evade capture.
The truth was simpler: he had spent his time hiding almost in plain sight for at least 14 years in an apartment in California.