Madrid: Rubbish piles up on streets as cleaners strike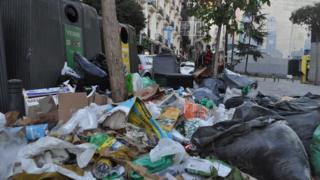 Residents and visitors to Madrid are increasingly being confronted by piles of malodorous rubbish and litter-strewn streets as a strike by street cleaners enters its second week.
The mayor of the Spanish capital has denied the city faces a health risk.
The city's street-cleaners are striking over plans to cut hundreds of jobs, and reduce the remaining workers' salaries.
Madrid is trying to cut its public service costs at a time when the whole country faces a strict austerity drive.
A meeting on Thursday between unions and employers ended with no agreement, meaning the strike will go on.
For more than a week now, I and the other 3.3 million residents of Madrid have smelled, seen and sometimes stepped in, the product of a strike.
This is not Madrid at its best: Overflowing bins, piles of rubbish, cigarette butts scattered everywhere and other kinds of stinky waste littered across the streets and pavements.
Standing against a statue of a street-sweeper in one of Madrid's squares, Julia Toledo, who lives in the La Latina neighbourhood, blamed City Hall.
"I support people who fight for a just salary," she said.
"I understand they need to fight for what is theirs," said another Madrid resident, Mari Angeles Mateos.
Attack on debt
Some 335 cleaners' jobs were lost in August.
Juan Carlos Lopez Urbano, 49, has been a street cleaner in Madrid for 16 years, and currently earns 1,300 euros (£1,100) a month, working night shifts.
He says his monthly wage, after the proposed cuts, would fall to 750 euros. Not enough, he says, to pay his 22-year-old daughter's university fees, or his mortgage.
His wife lost her job as a cleaner at a now nationalised Spanish bank nine months ago.
However, a spokesman representing the private company which employs Mr Lopez Urbano argued that the reduction in his salary would not be more than 20%.
However union representative Juan Carlos Del Rio says the planned cuts by the companies contracted by Madrid's City Hall to clean the city will lead the workers to "absolute poverty and social exclusion".
Under a new contract, with private companies paid to run Madrid's basic services, the city authorities hope to make savings of approximately 100m euros a year, for the next eight to 10 years.
Madrid, more than most other Spanish cities, is working hard to cut its debt.
And by the end of 2014, after a series of money-saving initiatives, the city authorities predict that, in the space of two years, they will have cut Madrid's debt by nearly 3bn euros, leaving a total debt of 6.2bn euros.
The rubbish crisis has added to criticism of Madrid's Mayor Ana Botella - the wife of Spain's former Prime Minister Jose Maria Aznar - who has already come under fire for Madrid's failed bid for the 2020 Olympics.
A spokeswoman for the mayor's office said the Olympic bid had been "very, very austere", and said the mayor was working to rebalance the city's accounts.