Jailed Pussy Riot singer 'found in hospital'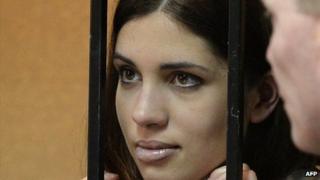 The husband of jailed Pussy Riot band member Nadezhda Tolokonnikova has told the BBC that he has spoken to her for the first time since she went missing 26 days ago.
Pyotr Verzilov said his wife was in a prison hospital in western Siberia.
He said she was undergoing tests for 'various conditions' at the Tuberculosis Hospital No 1 in Krasnoyarsk.
But he added that she does not have tuberculosis.
Mr Verzilov said his wife had told him that conditions at the hospital were much better than at the penal colony in Mordovia, where she had been held previously, and that she had not been beaten during the 26 days she was missing.
Russian prison authorities issued a statement confirming that "convict Tolokonnikova has arrived to the institution of the Russian prison service in the Krasnoyarsk region".
A spokesman said her exact location had been sent to her lawyer, who had instructions not to tell anyone else.
Nadezhda Tolokonnikova and two other band members were sentenced to two years in jail last year, after staging an anti-Vladimir Putin protest in a Moscow cathedral. In the song they implored the Virgin Mary to "throw Putin out".
They were charged with hooliganism motivated by religious hatred.
One member, Yekaterina Samutsevich, was released on appeal in October.
But after her appeal attempt failed, Tolokonnikova went on hunger strike. She had complained of abuses by prison staff at Mordovia, including working long hours and being denied drinking water in her prison cell. She was moved to a medical unit and her whereabouts were unknown since October.
Her husband, who was on his way to Krasnoyarsk when he spoke to the BBC's Daniel Sandford, says he hopes to see her soon.