Europe: Punishing German success?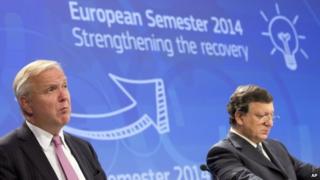 In Brussels on Wednesday senior European officials could be seen engaging in a tortuous dance. The European Commission placed Germany under scrutiny for its trade surplus. Europe's economic powerhouse will now find itself investigated as part of an "in-depth review" with a report expected by the spring.
If the conclusion is that Germany's surplus has been excessive and harmful to Europe's general economy, then potentially the country could be fined or sanctioned if it does not adopt recommendations. Even a light penalty, however, would be a political nightmare with German workers seeing it as punishment for discipline, for low wages, for spending on research and development, for - in other words - being competitive.
The favourite dance step in all this was the tip-toe. Officials said the investigation was being done with an "open mind". They went out of their way to say they were not out to punish success. "We are not criticising the excellent economic performance in Germany," said European Commission Vice-President Olli Rehn but that is, of course, precisely what was happening.
Germany, in effect, is being accused of economic selfishness. The President of the European Commission, Jose Manuel Barroso, said: "The issue is whether Germany... could do more to help rebalance the European economy."
Officials in Brussels want the political leadership in Berlin to do more for the "European" interest and less for the German "national" interest. They firmly believe that Germany, running a current account surplus of 6% since 2007, is distorting the wider European economy. In September the surplus reached 19.7bn euros (£16.6bn; $26.4bn) - the biggest in the world.
So whilst, time and again, asserting that they are not criticising German competitiveness, they want a change in German policy. They want Germany to open up its service sector. They want to see wages rise. They want greater investment in Germany itself. They want to align salaries with productivity.
Above all they want to see domestic demand in Germany increase so sucking in imports from struggling European countries. One official said that "more demand in Germany can spill over into more vulnerable countries".
Irony
There is an irony to all this. For the past three years the policy - overseen by Brussels- has been to make the rest of Europe more like Germany, basing growth on exports. So countries like Spain have slashed wages and run up a current account surplus.
The wider political point, made by President Barroso, is that Europe's economies are increasingly inter-dependent. Germany's borrowing costs, for instance, have benefited from capital flight from weaker countries.
This whole exercise is part of the new rules adopted to root out economic imbalances which could prove dangerous to the European economy if left unaddressed.
"This is not about the EU running economies in place of national governments," said President Barroso. "It is about ensuring that what is good for individual states is also good for the EU."
Yet once again it highlights a dilemma: that the need to improve the management of the eurozone inevitably impinges on national economic policy, and that causes political unease.
Some of those stresses have been seen in Germany recently, with the potential coalition partners discussing whether referendums were needed when significant powers were passed to Brussels.
The Commission will report just before the European elections, when German voters will have the possibility of backing an openly Eurosceptic party if they do not like what they hear from Brussels. Some voters will agree that Germany should act in the European interest. Some will not.