Former Irish senator Francie O'Brien jailed for extortion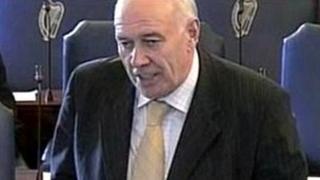 A former Irish senator has been sentenced to three years in prison, with the final year suspended, after being convicted of extortion.
Francis 'Francie' O'Brien from Latton, Castleblayney, County Monaghan, pleaded guilty to demanding 100,000 euros (£85,000) with menaces from a Department of Agriculture vet.
The 70-year-old served for over 20 years as a Fianna Fáil senator.
He told Leitrim Circuit Court that he was ashamed of what he had done.
A detective inspector said the defendant went to the vet and said he had been told that blood samples and other animal testing equipment had been found after being incorrectly disposed of.
O'Brien was aware that there had been a previous incident involving the same vet and told him it could go away on payment of 100,000 euros.
The court heard that O'Brien was acting as a messenger for others who were involved.
The vet went to the police who investigated the case.
They arrested O'Brien when he brought the vet to a shed to show him the bags of material they had found.
Judge John O'Hagan said the former senator and county councillor had betrayed the trust of the people.
Instead of going to the police, he had participated in this abominable crime, the judge said.