Lethal injection drug stolen from Kildare vet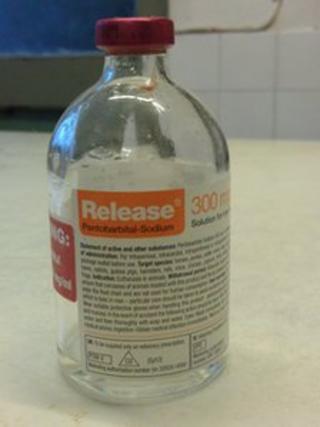 A drug used for lethal injections has been stolen during a burglary at a veterinary clinic in the Republic of Ireland.
The drug, pentobarbital, is typically used to put animals to sleep and police have warned that it is "very poisonous".
In the United States, pentobarbital is also used to execute prisoners.
About 15ml of the drug was stolen from the clinic in Celbridge, County Kildare, last week.
Police said the burglary is believed to have taken place between 20:30 GMT on 5 November and 17:00 GMT on 6 November.
The drug was contained in a 100ml clear glass bottle.
The bottle bore an orange and white label with the words 'Release'.
Police said both they and the Irish Medicines Board (IMB) are "very anxious that this item is recovered".
The advised anyone who has consumed the drug to "seek immediate medical assistance".