Bulgaria protests: Clashes outside parliament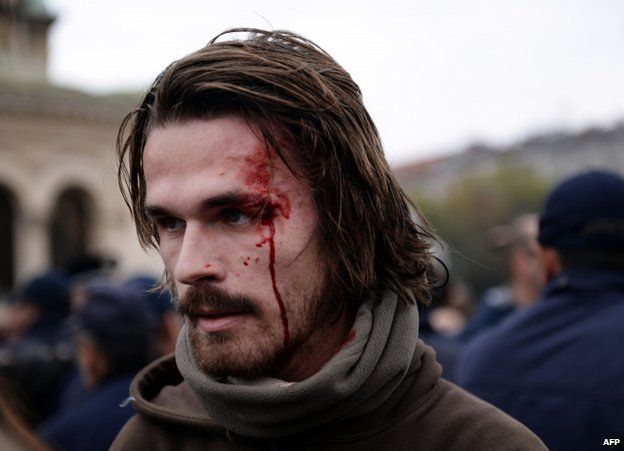 Scuffles have broken out as riot police pushed back anti-government protesters trying to block off parliament in the Bulgarian capital Sofia.
Students and other demonstrators converged on the building as part of a rolling campaign to dislodge the Socialist-backed government.
The students have been staging a sit-in at Sofia University for three weeks.
Unrest over poverty and corruption in the EU's poorest state has continued despite early elections in May.
A Socialist-backed technocratic government was formed under a new Prime Minister, Plamen Oresharski, but lost support amid allegations of corrupt ties with business groups. It has been dubbed by some protesters as a "Red Mafia".
Similar popular unrest had plagued its predecessor in power, a centre-right minority government led by Boyko Borisov.
On Monday, students locked gates at the capital's university to declare a complete "occupation" of the site but reports suggest it may re-open on Wednesday.
On Tuesday, they marched through the streets with other Bulgarians to the parliament, which protesters managed to blockade briefly in July.
Several people were arrested as police sought to remove protesters trying to stop patrol cars by lying on the ground, Bulgaria's Novinite news agency reports.
Some demonstrators were reportedly beaten and dragged away, and photos showed at least one man with his face bloodied.
"We are protesting against poverty and unemployment", a student declaration said this week, quoted by AFP news agency. "We are protesting before we become beggars with a higher education."
On Sunday, university professors and teachers issued a statement condemning the "lies and 'tycoonisation' of the political and social environment".