Russia demands apology from Poland over Warsaw rioting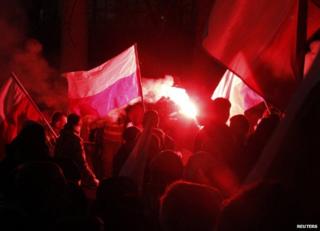 The Russian foreign ministry has demanded an apology from Poland after nationalist rioters attacked the Russian embassy in Warsaw on Monday.
It conveyed the demand after summoning the Polish ambassador to Moscow, Wojciech Zajaczkowski.
Poland's embassy in Moscow expressed "deep regret" at the incident, blaming it on ultra-nationalists.
Rioters threw fireworks at the embassy and burnt a rainbow-coloured arch symbolising tolerance.
Polish police used rubber bullets to break up groups of masked youths from an ultra-nationalist march which attracted thousands of supporters.
Four police officers were injured as the rioters set alight two cars and a guard's booth in front of the embassy, AFP news agency reports.
Russia wants an official apology as well as measures to provide for "the security and normal operation of Russian diplomatic representations in Poland", the Russian foreign ministry said in a statement on its website.
The Russian foreign ministry accused Polish police of "passivity and tardiness" in failing to prevent the rioters attacking its property.
It called for the cost of damage to the embassy to be reimbursed and for the attackers to be prosecuted.
A couple of hours before the Russians demanded an apology, the Polish embassy in Moscow posted a statement, in Russian, on its website which expressed "deep regret over the aggressive behaviour and incidents" outside the Russian embassy on Monday.
Blaming the attack on ultra-nationalist groups, it added: "Behaviour of this kind with regard to a diplomatic mission merits absolute condemnation and does not correspond to a worthy celebration of Independence Day on 11 November."
Poland's relations with Russia, which dominated it in Soviet times and under the tsars, have frequently been strained.