Russia jails four over 2011 Domodedovo airport bombing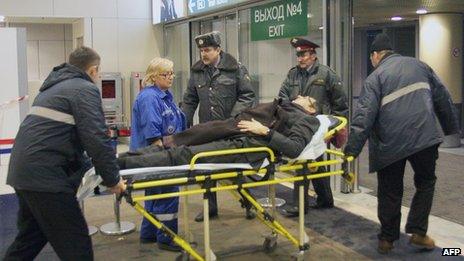 A Moscow court has given life sentences to three men for a suicide bombing at the Russian capital's Domodedovo international airport, which killed 37 people in January 2011.
The men will be sent to labour camps. A fourth man was jailed for 10 years.
They helped the bomber get to Moscow from the North Caucasus, housed him and gave him explosives, the court ruled.
Chechen warlord Doku Umarov said he had ordered the bombing, carried out by a 20-year-old man from Ingushetia.
Doku Umarov - a fugitive wanted by Russia - runs an Islamist group called the Caucasus Emirate movement.
At least seven foreigners were among those killed on 24 January 2011 when bomber Magomed Yevloyev struck and 172 people were injured. The arrivals hall was full of people.
Brothers Islam and Ilez Yandiyev got life, as did Bashir Khamkhoyev, while Akhmed Yevloyev got 10 years. Akhmed Yevloyev, a brother of the bomber, said he had had no idea that the attack was to take place.