Supreme Court overturns Lissadell House ruling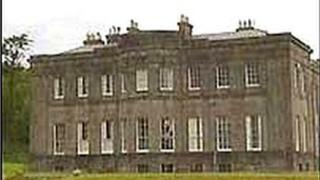 The Irish Supreme Court has overturned a High Court judgement that there were public rights of way to Lissadell House estate in the Republic of Ireland.
The court found there were no such rights of way, except for a small part of an avenue with access to the coast.
Lissadell House was the ancestral home of the Gore-Booths and was made famous in a poem by W B Yeats.
The case is one of the longest and most expensive property disputes in the history of the Irish state.
It involved the house owners and Sligo County Council over right-of-way access.
The 19th-century mansion Lissadell, which sits on 400 acres of land in County Sligo, was bought in 2003 by Edward Walsh and Constance Cassidy for 4.55m euros (£3.8m). They spent millions restoring it before opening it to the public.
They argued they could not grant an untrammelled right of way for reasons of security, insurance and maintenance.
As a result of the council's decision, the couple closed the estate in 2009 although it was attracting 40,000 visitors a year. They also let 11 staff go.
In a statement at the time, they said it had become impossible to operate the house as a historic house or private home.
"No property whatsoever, let alone a large tourist facility, could be operated on the basis of unregulated, uncontrolled and unfettered access," they said.
Lissadell is one of the Republic of Ireland's most historic premises and was the childhood home of high profile rebel Countess Markiewicz.
The house featured in a poem by W B Yeats, for whom it was a favourite haunt.
Countess Markiewicz fought alongside the Irish insurgents during the 1916 Easter Rising in Dublin.
She was condemned to death by the British authorities, but her sentence was later quashed and she was imprisoned instead.
After refusing to take her seat as the first woman MP at Westminster, she later sat as a member of the first Dail, the Irish parliament.
The case has already been the subject of a 58-day high court hearing estimated to cost 6m euros (£5m).
The Supreme Court judgment will have serious implications for Sligo County Council, which had argued there was an inferred dedication of public right of way through decades of public use.