Pyrotechnics blast at Paris musical injures 15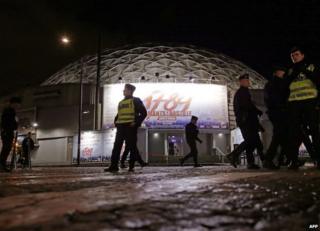 A pyrotechnics blast at a Paris arena has injured 15 people, five seriously, just hours before the start of a musical about the French Revolution.
The large Palais des Sports venue in the south-west of the city was preparing to stage a production of 1789, The Lovers Of The Bastille.
Those hurt are said to be either cast members or stage hands.
A technician is said to have accidentally ignited pyrotechnic devices being used in the show.
According to Le Parisien newspaper, the use of a power tool close to the devices may have triggered the explosion.
About 100 firefighters and a dozen fire engines were deployed to the scene, which was visited by Interior Minister Manuel Valls.
Some of those seriously hurt, who were taken to hospitals in the city, suffered burns while one had a heart attack and another received a facial injury, the French broadcaster BFMTV reports.
The more lightly injured were mainly examined for damage to their hearing.
So strong was the blast, which occurred just after 18:00 (17:00 GMT), that a shock wave was reportedly felt in nearby buildings.
A wall and part of the ceiling collapsed, AFP news agency reports.
"The walls shook," an employee at the arena told the agency, adding that only cast and crew were on site at the time.
Weekend performances of the show, which premiered in Paris last year, were reportedly cancelled.
The Palais des Sports has a capacity of 4,500 and is one of the French capital's largest performance spaces. It hosted the premiere of Les Miserables in 1980.