Croatia to hold referendum on same-sex marriage ban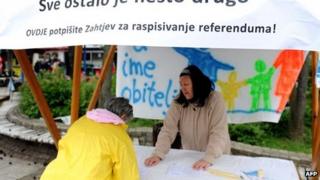 The parliament of Croatia has voted in favour of holding a referendum on proposals to ban same-sex marriages.
On 1 December voters will decide whether to approve changes to Croatia's constitution, to define marriage as a union between a man and a woman.
More than two-thirds of the members of parliament in Croatia backed the plan.
A petition in favour of the plan, drawn up by a Catholic group, received more than 700,000 signatures. Opponents say it is discriminatory and anti-gay.
On Friday the parliament of the majority-Catholic country voted to hold a referendum asking the question: "Do you agree that marriage is matrimony between a man and a woman?"
Issue divides politicians
If the proposal is passed in December, Croatia's constitution will be amended to ban gay marriages.
The plan for a referendum was allowed parliament scrutiny after a Catholic group called 'In the Name of the Family' gathered enough signatures to pass the required threshold of support.
It received support from 104 members of Croatia's 151-seat parliament.
Human rights groups say they will lodge an appeal against the referendum, saying it infringes basic human rights in Croatia, which joined the European Union in July.
Earlier this week the Prime Minister of Croatia, Zoran Milanovic, said he was against the referendum and would probably vote "No".
Mr Milanovic told state television in Croatia that he saw "a lack of tolerance" in the proposal towards a minority group.
"Marriage is not threatened by same-sex groups but by the modern way of life, the race to earn money," said Mr Milanovic, who heads a Social Democrat-led government.
The head of the main opposition, Tomislav Karamarko, of the centre-right Croatian Democratic Union, has said he will vote in favour of the proposal.