Italian police arrest Somali over Lampedusa boat tragedy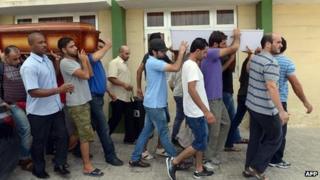 Italian police have arrested a 24-year-old Somali man in connection with last month's boat disaster off Lampedusa in which 366 African migrants died.
The man, believed to belong to an armed group, is accused of being one of the organisers of the people trafficking. He was arrested on Lampedusa.
The alleged captain of the Lampedusa boat, a Tunisian man named Khaled Bensalam, is being held in Sicily.
Most of the victims on 3 October were Eritreans and Somalis.
The overcrowded fishing boat caught fire, capsized and sank near the shore of the tiny rocky island off the North African coast. There were 155 survivors.
Italian media say the Somali man's arrest followed investigations by Sicilian police and anti-Mafia police based in Rome. He is now being questioned in Sicily.
The suspect had been pretending to be a migrant escaping the violence and poverty of his country, Italian media report. But survivors of the sinking identified him as one of the organisers of their disastrous journey.