Putin calls for wider use of Russian flag and anthem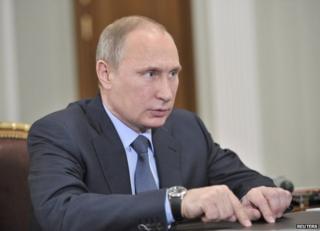 Russian President Vladimir Putin has tabled a bill in parliament for wider use of state symbols such as the flag and national anthem.
He told a meeting of legal academics that their increased use in colleges would help foster patriotism among young Russians in particular.
Russian state TV broadcast footage of the meeting at Mr Putin's Novo-Ogarevo residence near Moscow.
Mr Putin restored the Soviet-era anthem with new lyrics in 2000.
"The wider use, at least in educational institutions, will contribute to increasing patriotism, especially among the younger generation," Mr Putin said.
"[Watching] the flying of the state flag and listening to the anthem will bring our citizens back... to patriotic feelings."