Pussy Riot: Tolokonnikova 'missing in Siberia'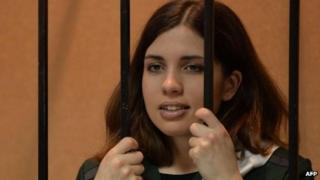 The husband and supporters of a jailed Pussy Riot band member are trying to find her in Russia's Siberian prison camp system on her 24th birthday.
Nadezhda Tolokonnikova is being transferred to a different prison but her husband Pyotr Verzilov says he has heard nothing from her for 19 days.
He posted a photo of himself on Twitter from Nizhniy Ingash, a Siberian village where he thought she might be in jail.
She and another band member were jailed over a protest in a Moscow cathedral.
Nizhniy Ingash is in the Krasnoyarsk region of central Siberia, some 4,500km (2,796 miles) east of Moscow.
In September Tolokonnikova went on hunger strike at a penal colony in Mordovia, which lies between Siberia and Moscow.
She is serving a two-year jail term for hooliganism. She and two other Pussy Riot protesters were sentenced in August 2012, but one of them was later released on appeal.
Remote isolation
Pussy Riot's act was regarded as blasphemous by many Russians, but their prosecution caused an international outcry.
Mr Verzilov sent several tweets from the snowy Krasnoyarsk region on Thursday, saying it was bitterly cold and complaining that he still had no news of his wife. He uses the Twitter account gruppa_voina.
"The administration of IK-50 [prison] in the middle of the taiga [virgin forest] told us today that 'We don't have Tolokonnikova here and don't know when she'll arrive,'" he said, adding: "19 days without any contact with Nadya."
On Wednesday Amnesty International urged the Russian authorities to give information about Tolokonnikova's whereabouts, and said she must be allowed to see a lawyer.