Irish economy 'passed bailout test', minister says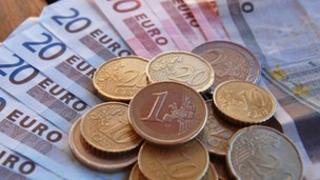 Ireland has successfully passed its final review of an 85bn euro (£71bn, $114m) bailout, its finance minister has said.
It means the country should complete its aid programme next month.
The Irish economy is emerging from one of the deepest recessions in the eurozone, having sought an international bailout in November 2010.
Michael Noonan said: "This is a significant day that many thought, and some feared, would never be reached."
Officials from the European Union, European Central Bank and International Monetary Fund - the three bodies behind the bailout - are expected to endorse Ireland's achievements during a visit on Thursday.
However, the inspectors are also likely to highlight areas where they feel more could have been done, such as tackling the mortgage arrears crisis.
Mr Noonan said the bailout programme had been "difficult and harsh on the Irish people".
He said the responsibility for continuing to restore the economic fortunes of Ireland was being passed back to the government.
Ireland is due to leave the EU-IMF bailout on 15 December.