WW1 anniversary means battlefield business for Belgium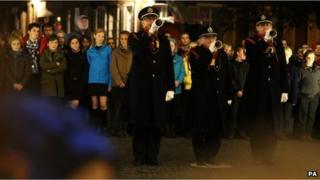 With more than two million visitors expected to visit Belgium's World War One sites over the next four years, just how are the people and businesses in Flanders going to cope?
It is eight o'clock on a warm autumnal evening in Ypres, and about 200 WW1 pilgrims have gathered under the Menin Gate to witness four buglers from the local fire brigade sounding the Last Post.
It is a ceremony that has been performed almost every night since 1928 in front of whoever wants to watch it, be it several coach parties in the summer, or a solitary passerby on a winter stroll.
However, with the build-up to the 100th anniversary of the war, the sight of an empty pavement under Reginald Blomfield's arch to the 54,000 men whose graves are unknown is set to be a thing of the past.
According to Flemish tourism chiefs - who with Belgium's government have invested more than 50m euros (£42m; $67m) in centenary events - the anniversary is likely to make the many "must-see" WW1 attractions in the region even more popular than they were before.
Hotel boom
In a "normal" year, the Flanders Fields area accommodates 350,000 visitors - mainly British, Belgian, Dutch and a growing band from the USA, Canada, Australia, New Zealand and South Africa. This is set to rise to 500,000.
Many come to find their ancestor's final resting place, while others are simply intrigued by the history.
The prospect has sparked a construction boom in the region, with hotels adding extra rooms, museums expanding, new tours formulated and an increase in parking spaces by the most important cemeteries.
Former chemistry teacher Carine Declercq said the anniversary helped her and husband Stefan to realise a lifelong ambition to open Main Street Hotel in Ypres two years ago, at a cost of 800,000 euros.
"It's always risky starting a new business, so we thought that Ypres might be a safe choice because of 2014-2018," she said.
"At first we thought of doing everything ourselves, but this would have taken too long and we would have missed the four important years to come. Therefore, we decided to go to the bank in 2010 and get a loan so that we could open the hotel before 2014."
Dries Loontjens, owner of Kasteelhof't Hooghe - a 15-bedroom English cottage-style hotel restaurant on the former front line 3km (two miles) from Ypres - said he had received so many large group accommodation requests he decided to build a new 12-bed hotel on adjacent land.
He hopes his new 1.24m euro investment, set to open in March 2014, will help meet the demands for groups of about 40 to 45 people.
"With the forthcoming remembrance of the start of WW1, Ypres is expecting large groups of tourists and every available room will be needed," he said.
Battlefields by bike
Meanwhile, a 10m-euro refurbishment has increased the size of the In Flanders Fields Museum in Ypres by 50%, while Lijssenthoek Military Cemetery has a new visitors' centre.
The Memorial Museum of Passchendaele 1917 in Zonnebeke has a new building, while the Yser Tower Museum in Diksmuide has been renovated.
At Tyne Cot, the largest Commonwealth war cemetery in the world, many of the broken white Portland stone headstones are being replaced with marble - part of an effort to get the cemeteries looking perfect for the expected crowds.
Peter Slosse, director of tourism in Ypres, said bookings at hotels and the In Flanders Fields Museum had risen by at least 30%.
"We even have bookings for 2015," he said. "But there are still places left and people will always be helped find somewhere to stay outside of Ypres if it's full here."
Teachers Nick De Bodt and Rik Caubergs said the prospect of a tourism boom had prompted them to launch Bike and Culture Flanders, a travel agency which combines WW1 cycle tours with cultural activities such as chocolate-making.
"We think people get so much more out of visiting the graveyards and battlefields by bike," said Mr De Bodt. "The terrain is flat, so you can cover many miles in a day, which means you can get some idea of what it was like for the soldiers involved."
Sombre moment
But WW1 cycling tour guide Carl Ooghe said he feared not all attempts to lure in tourists were as tasteful.
"It makes me frown when I see souvenir shops selling poppy gin, poppy chocolates, poppy umbrellas and even chocolate helmets," he said.
"It could offend some people and reflects negatively on the image of a town like Ypres."
Belgium's centenary commissioner Paul Breyne said he hoped next year's commemorations would strike the right tone, and be accessible to all.
"We don't use words like won or lost," he said. "After 100 years we don't care about us and them. We remember all the victims of the First World War."